"Amuma Says No" Highlights San Inazio Dance Parties
Hometown band "Amuma Says No" will be rocking Boise's Basque Block tomorrow night and Sunday during two street dances at the popular San Inazio Festival.
Amuma Says No is known for its catchy mix of traditional and modern Basque dance music, as well as Basque-flavored folk and rock tunes. Its members are Jill Aldape, Dan Ansotegui, Sean Aucutt, Spencer Martin, Dave Manion, Rod Wray and T.J. Eriksen.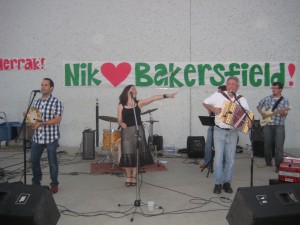 The group has recorded seven albums. Fans can connect with the band on Facebook. The band is also a recent recipient of a grant from the National Fund of Folk Culture, according to their Facebook page.
The young Txantxangorriak musicians start the Saturday evening street dance at 9 p.m. followed by Amuma Says No at 10 p.m. Sunday's street dance is scheduled to run from 7 p.m. to 11 p.m.
The festival features a wide range of activities, including the 50th anniversary celebration of the Oinkari Dancers and a host of Basque handball and pala competitions at the fronton. (See Euzkaldunak page for full details.)
Amuma Says No will also play at the Mountain Home Basque Festival on Saturday, August 8. For more information on the band members, see their MySpace page.