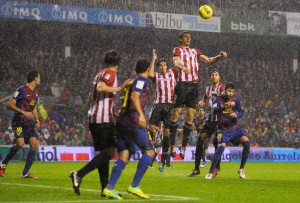 The Basque team Athletic Bilbao will confront Barcelona in the Copa del Rey (King's Cup) championship on Friday, May 25. The two teams, who will face off at the Vicente Calderón stadium in Madrid, previously battled it out in the 2009 final. Barcelona took home the trophy with a 4–1 victory.
RELATED EUSKAL KAZETA REPORTS:
Basques in the 2010 World Cup
Basque Identity and Athletic Bilbao's Success
Athletic Bilbao Loses Final But Wins Media Attention
Barcelona is favored to win, having played tougher teams, including a 4-3 win against Real Madrid.
Bilbao and Barcelona are the two teams with the most cup wins in the history of the competition. Barça has won it 25 times, Athletic 23.
The head of the regional government of Madrid threatened to suspend the game and have it played behind closed doors because of threats to whistle during the Spanish national anthem by Basque and Catalan separatists, in a report from The Express Tribune.
Bleacher Report correspondent Cheyanne Hollis presents a great summary of the events leading up to this match-up.
The game is scheduled to take place at 7 p.m. Madrid time.
Barcelonastream.com says it will be broadcasting the game livestream.
Another blog, Football News, also claims it will be broadcasting the game livestream.