Championship Basque pelota players will be returning to California later this month to play exhibition games in Bakersfield and South San Francisco.
The four athletes — Fernando Goñi, AKA Goñi III; Pedro Eulate; Alberto Ongay and Jon Apezetxea — will battle it out on the handball courts during festival events at the Kern County Basque Club and the Basque Cultural Center. (Updated information:Ongay and Apezetxea will not be coming to the U.S. They will be replaced by two other Basque players.)
Video: Basque Handball from Euskal Kazeta on Vimeo.
Pelota, or handball, is akin to a national sport in the Basque Country, where players square off on different-sized courts in tournaments across Europe. Basque immigrants brought the game with them when they came to the United States.
The pelota action in Kern County will take place Saturday May 29 and Sunday May 30 on the Basque club's left-wall handball court known as Gure Amentsa, or "Our Dream." The address: 2301 S. Union Ave., Bakersfield.
After Bakersfield, the squad will travel to the Bay Area, where they play Friday June 4 on the indoor court at the Basque Cultural Center in South San Francisco as part of a weekend that also includes the San Francisco Basque Club's annual festival. The Cultural Center address: 599 Railroad Ave., South San Francisco.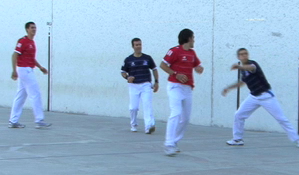 The four Basque handball players hail from from the Navarra province of the Basque region; Goñi from the town of Zubiri, Eulate from Lizarra-Estella, Ongay from Satrustegi and Apezetxea from Goizueta.
The athletes put on a spirited performance in Bakersfield last year during the Basque club's annual Memorial Day-weekend festival. For all but one of them, the visit was their first trip to the United States.
Between them, Goñi, Eulate, Ongay and Apezetxea have won a number of singles and doubles championships in the Basque Country. Goñi and Eulate are veterans who have been playing the sport the longest of the four men.
For more information on the Bakersfield and San Francisco Basque festivals and pelota, see the related Euskal Kazeta articles below:
Euskal Kazeta Calender of Events
Celebrating Basque Festival Season
Popularizing Basque Pelota
San Francisco Basque Club Celebrates 50 Years
NABO's 34th Annual Pelota Championships
Basque Pilotaris Thrill Bakersfield Crowd