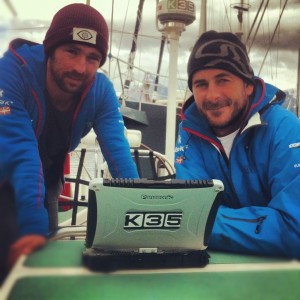 In the next few days, Basque surfer Kepa Acero will try to ride a huge wave in the Antarctic Ocean. If he succeeds, he will be the first European surfing this untamed, frigid ocean. He is joining the sailing expedition of Pakea Bizkaia, a Basque sailboat heading to Antartica for the first time.
Acero's adventure is part of his "5 Waves, 5 Continents (5 Mares)" project that he started in 2010. His goal is to traverse the world and surf untamed waves on each continent.
So far, the Basque surfer has ridden waves in Indonesia, India and Angola. Acero, who hails from the coastal town of Algorta in Bizkaia, gained fame riding waves in the Basque Country, including the legendary Mundaka point break.
For the Antarctica adventure, Acero has a special wetsuit to deal with the harsh conditions. The sailboat left Ushaia, the tip of South America Jan. 4, and was expected to arrive in Antartica on Jan. 8.
The unpredictable winds and  storms that tear through Drake Passage, as well as the ever-present  iceberg flows, are a concern of sailing captain Unai Basurko during the crossing. He and his crew are expected to sail around Antartica for two weeks, during which time Acero will hunt for the right moment and location to catch a wave.
Kepa Acero & Pakea Bizkaia from Pakea Bizkaia on Vimeo.
Watch a video on his "5 Continents" plan.
For another previous story on the Pakea Bizkaia expedition to Canada, read Euskal Kazeta's report:
Basque Sailors Navigate Historic Fishing Routes
Kepa Acero's blog
Pakea Bizkaia's website