Elko Basque festival expected to attract a large crowd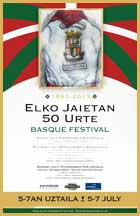 The Elko Basque Club is celebrating the 50th anniversary of the National Basque Festival this weekend, July 5 to 7. The annual summer convention of North American Basque Organizations (NABO) is being held in conjunction with the festival and it promises to be a big celebration.
Elko is aptly located between the large Basque populations of California and Idaho, making its festival a popular event and this year with even more reason, the crowds are likely to be larger than normal.
The club will be selling 50th anniversary commemorative wine glasses and mugs throughout the festival.
The Friday night kick-off will take place at the fronton (handball court) with handball games between players from all over the West. Elko's Arinak dancers, woodchoppers and weightlifters will be showing their stuff, and NABO will host its third annual Txerriki contest, a celebration of all things pork!
The Star Hotel and Biltoki restaurant, which will be serving tapas, are likely to have overflow crowds all weekend.
Basque dance groups from all over the West will be performing at the County Fairgrounds Saturday, and many of the club's leading members will be honored there as well.
On Saturday night, a paella contest will be held behind the Northeastern Nevada Museum. Cooks will start stirring their pans at 7 p.m. and Juan San Mames, owner of Saffron.com, will make a presentation about paella, said local club member Anita Anacabe Franzoia.
Amuma says No, the popular rock band from Boise, will play for the dance Saturday night at the clubhouse. Read Anne Marie Chiramberro's blog on her favorite band, Amuma Says No.
Sunday's barbecue, dance performances and woodchopping, traditionally held at City Park near the fronton, is moving to the clubhouse this year.
"We've been talking about moving the Sunday event to the clubhouse for about four years now," said Anacabe Franzoia. Renovations underway at City Park made the move definite.
Euskal Kazeta's 2013 Festival article

Facebook Event
Friday
8: 30 a.m. – N.A.B.O Convention Meeting
Great Basin College Campus in the Greenhaw Technical Arts Building, Room 130
1 p.m. – N.A.B.O. Junior Mus Tournament – Elko Basque Clubhouse
For kids ages 13 to 17 (11 or 12 can play in some cases).
For more information, contact Anita Anacabe Franzoia at (775) 389-9300
6:00 p.m. – Kickoff/Txupinazua- City Park handball court. E

lko Ariñak Dancers, Basque sport exhibitions of weight lifting and wood chopping,  handball games.
Saturday
7:00 a.m. – 5K Run/Walk – Elko Basque Clubhouse
$20 participation fee.
Registration is at 6:15 a.m.
Race starts at 7 a.m.
For more information, contact Cody Krenka at 738-6479
8 a.m. – Golf Tournament – Ruby View Golf Course
$30 per person a $120 per team
Registration is at 7 a.m.
Shotgun start at 8:00 a.m.
For more information, contact Brad Martin at (775) 777-7277
10 a.m. – Parade – Downtown Elko

 starting at the Crystal Theater on Commercial Street, continuing through Downtown Elko down Idaho Street, ending at the Elko County Fairgrounds.
1:00 p.m. – Games & Dancing – Elko County Fairgrounds
$10 Adults
 $5 Children 12 & Under
Featuring the following dance groups: Elko Ariñak, Utah'ko Triskalariak, Reno Zazpiak Bat, Boise Oinkari, Chino's Gauden Bat, San Francisco's Zazpiak-Bat,
Watch traditional Basque rural sports featuring weightlifting, wood chopping, weight carrying, bale toss, tug of war, and more!
9 p.m. – Dance featuring Boise's Amuma Says No – Elko Basque Clubhouse
$12 Admission
Sunday
Elko Basque Clubhouse
Please no outside Food or Beverage
10:30 a.m. – Sheepherder's Bread Contest – Auction to be held after Mass
11:00 a.m. – Catholic Mass
12:30 p.m. – 2:00 p.m. – Basque Picnic
$18 Adults & Seniors; $10 kids 12 and under
Beef Tri-Tip, Lamb Stew, Basque Beans, Salad, Paella, French Bread, Dessert, Wine, and Coffee
1:30 p.m. – Dance Performances & Basque Sport Exhibitions
4 p.m. – Jota and Irrintzi Contest
Fronton
City Park
Chris Sheerin Way near Idaho Street
Elko Clubhouse
1601 Flagview Dr.
Northeastern Nevada Museum
1515 Idaho St.
Restaurants
Biltoki
405 Silver St
Star Hotel
246 Silver St.
Toki Ona
1550 Idaho St.