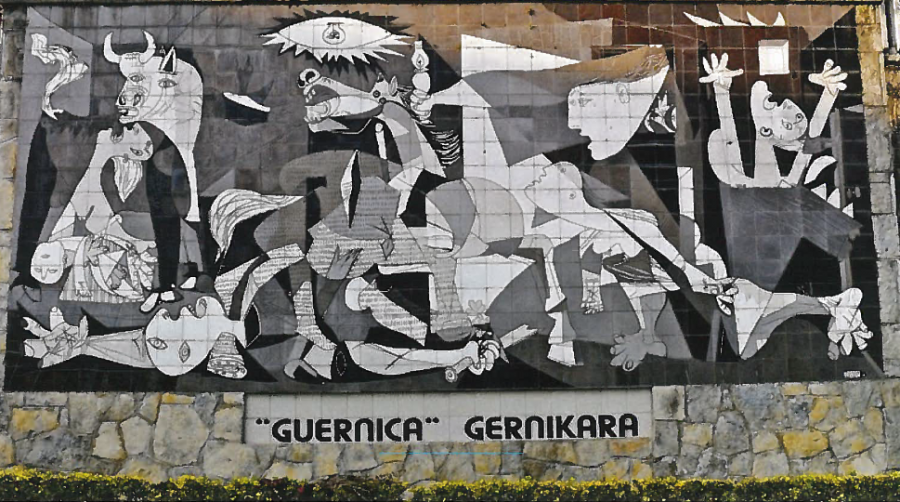 Ensemble for these Times, a group of classical chamber musicians, will honor the 80th anniversary of the bombing of Gernika with "The Guernica Project," a special concert, in San Francisco on April 8. A preview concert of the Guernica Project will take place a few days earlier in Berkeley.
Dancers from the San Francisco Basque Cultural Center will open the SF program with a traditional Basque honor dance. Historical images from the Museo de la Paz in Gernika-Lumo, Bizkaia will be presented.
The group includes Nanette McGuinness, soprano, plus Dawn Harms on violin, Anne Lerner-Wright on cello and Dale Tsang on piano. Jeffrey Hoover, professor of integrated arts at University of Baltimore, composed the song "Guernica," which includes texts in six languages, including Basque and Spanish.
The group Ensemble for these Times focuses on 20th and 21st century music. According to McGuinness, the group's co-director, their music harnesses the power of artistic beauty, intelligence, wit, lyricism, and irony to create a deep understanding of our times and the human condition.
Hoover will be coming to the Bay Area for the premiere–he'll give a brief composer talk on April 8. The group, with Hoover, will perform a preview of parts of this program at Maybeck Studio in Berkeley on Sunday, April 2 at 3 p.m.
The concert also includes two works by Spanish composers Mercedes Zavala and Mario Carro, as well as "Death With Interruptions" (based on the Saramago) by Grammy-nominated composer Derek Bermel and Hoover's "Burning Giraffe.
The group has a critically acclaimed debut CD, "Surviving: Women's Words," which won a Silver Medal in the 2016 Global Music Awards and was also submitted for consideration for the 59th Grammy Awards.
Tickets are $25/$15 in advance (before April 5) and $30/$20 at the door.
Sunday, April 2
3 p.m. Preview of "The Guernica Project"
Maybeck Studio for the Performing Arts
1537 Euclid Ave.
Berkeley, Calif.
For tickets, click here.
Saturday, April 8
7:30 p.m. World Premiere of "The Guernica Project"
Noe Valley Ministry
1021 Sanchez St.
San Francisco, Calif.
For tickets, click here.