Landmark Louis' Basque Corner in Reno Has New Owners
After more than 40 years under the same owners, the venerable Louis' Basque Corner restaurant in Reno has changed hands.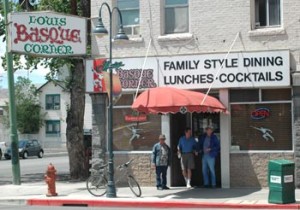 The landmark restaurant had been run by Louis and Lorraine Erreguible since it opened in 1967. Unlike other Basque restaurants, which hired younger cooks, Louis Erreguible continued to oversee the kitchen over the years. Originally from Mauleon, Zuberoa, Louis was a colorful presence in the restaurant, decked out in his white chef coat and Basque beret.
A loyal following of customers has flocked to the restaurant over the years to sample steaming dishes featuring favorites such as rabbit stew, poulet basquaise and Basque-style pork. The restaurant was also known for keeping the long-time Basque-American tradition of serving food at long tables, where complete strangers could be seated next to each other.
Related Euskal Kazeta Reports:
New Basque Restaurant to Open in San Francisco
Basque Chef Mattin Noblia on Top Chef Show
Tradition continues at Le Chalet Basque Restaurant
Now in their 80s, the Erreguibles decided it was time to retire, according to a report in Reno Gazette-Journal.
"I think it's time," Lorraine Erreguible told the Gazette-Journal. "It touches the heart to have to leave it, but we feel we put it into two very good hands."
The new owners will be Reno residents Chris Shanks and Brian Elcano, who say they plan to make some minor changes to the restaurant. The deal was closed in early March.
Located on Fourth Street in old downtown Reno, Louis' Corner has become one of the best known Basque restaurants in the country, in part because of relentless marketing by Lorraine Erreguible. The restaurant was featured last year on the Food Network's "Diners, Drive-Ins, and Dives" show hosted by Guy Fieri (See the video below).