Announcing the opening of the Lehendakari Agirre Center with offices in NY and DC
Juan Jose Ibarretxe, former president of the Basque government is scheduled to visit the U.S. this week for the opening of the Lehendakari Agirre Center, which will oversee research projects on policy issues in the Basque County. He will present details in SF and NY on the think tank, which is expected to serve as a model for other nations and regions. He will be in SF tomorrow, June 19 at the Basque Cultural Center for an evening of discussion on the center. After SF, he will travel to New York to make a similar presentation Sunday, June 24 at the Eusko Etxea New York Basque Club. A reception will follow the event. For more details about the actual events, visit Euskal Kazeta's calendar of events.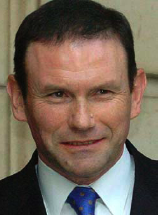 The center will have offices at Columbia University in New York City, George Mason University in Washington, D.C. and in the Basque Country, according to organizers.
The new think tank is named after Jose Antonio Aguirre, the first president of the Basque Republic, which existed for a brief period before it was overrun by forces loyal to Gen. Francisco Franco during the Spanish Civil War. The center uses the Basque spelling of Agirre. But the former president used Aguirre for his book "Escape Via Berlin: Eluding Franco In Hitler's Europe (The Basque Series)