Louis' Basque Corner Reopens with New Owners
The venerable Louis' Basque Corner in Reno has new wood paneling and floors and a raised ceiling that makes it seem more spacious. But the good news is that the Basque menu and ambiance is still there — as well as the Picon punch, according to a report by KTVN Channel 2 in Reno. You can check out the report on the video above.
Related Euskal Kazeta Report:
Landmark Louis' Basque Corner Sold to New Owners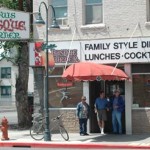 The landmark restaurant had been run by Louis and Lorraine Erreguible since it opened in 1967. Over the years, the business attracted a loyal following of customers. Louis was originally from Mauleon, Zuberoa and became a colorful presence in the restaurant, decked out in his white chef coat and Basque beret.
Louis, according to the TV report, likes the changes to the restaurant.