Mattin Noblia, Basque on "Top Chef" Show
By Nancy Zubiri
Mattin Noblia opened his San Francisco restaurant Iluna Basque in 2003. Just 23, he was believed to be the youngest restaurant owner in the City, according to a local newspaper report.

The ambitious young chef has not been resting on his laurels. He has continuously racked up positive reviews for his Basque tapas and was recently selected as one of the contestants for the sixth season of Top Chef, a popular show on the Bravo Channel.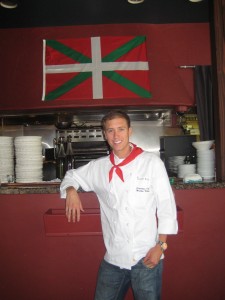 The first episode airs on Wednesday August 19 and Noblia, now 29, is excited about the attention the show will bring him and his restaurant. It's a cooking reality show in which chefs are eliminated week by week. (Noblia also appears on an Euskal Kazeta video.)
"I want to be known as the French Basque chef with the red scarf," Noblia said on a recent morning at his Iluna Basque restaurant in San Francisco's trendy North Beach neighborhood. He wants to be a representative for all Basque people, he said, explaining his choice of the red scarf made famous at the celebration of San Fermin, where Basque youth run with the bulls, dressed in white with a red scarf.
His next challenge is making his own hams. He's added a beam in his restaurant where he plans to hang them, because it takes about two years to dry a ham. He had to study the process because he's never cured a ham before.
"Being a chef is about being creative and reinventing yourself," said the thin young blond in his French accent, flashing his bright smile. He wore his white chef's jacket and, of course, was sporting his red scarf.
Restaurant reviewers and writers have questioned his youth, but Noblia said he doesn't consider it unusual.
"I always knew I wanted to be a chef," he said, noting that his father was always cooking for the family and his mother had a restaurant for 10 years when he was growing up in Cambo-les-Bains, near the resort town of Biarritz, where he was born. The restaurant, Xixta Berri, was a natural outlet for the food items she has produced over the years. For a time it was ducks and foie gras, now it's piments d'Espelette. She has acreage in France where she grows the chili peppers and turns most of the produce into powder, he said. Noblia uses the powder frequently in his restaurant and plans to use it on his hams.
His dream to be a chef started when he was five, he said. He went to cooking school when he was 14, when most of his classmates were at least four years older. He studied there three years under renowned chef Pascal Ondarts and spent a summer studying cooking in Switzerland.
He was always fascinated by San Francisco and remembers buying a map of the city when he was young. He jumped at the chance to work with Gerald Hirigoyen, chef and owner of two restaurants in San Francisco, Piperade and Bocadillos. Hirigoyen was a friend of his mother's. Noblia couldn't believe it when he finally arrived in his dream city.
"The first time I crossed the Golden Gate Bridge, I had goose bumps all over my body," he recalled.
A year later came Iluna Basque. "People thought I was crazy," he said. But he didn't want to wait to open his first restaurant just because of his age. "I always felt I could run a restaurant because I grew up around it."
He spent eight months looking for a good location and six years later is happy with his choice of the corner spot at 701 Union Ave., near Columbus Avenue. The restaurant, with its large vertical windows, has an impressive view of the grassy, tree-lined Washington Square.
He recently returned from a 10-day trip to the Basque Country and realized how much he misses it. He doesn't see his family as much as he'd like because all of them lead very busy lives. His father and brother are architects.
Noblia's Basque heritage is strong. He went to an ikastola, or Basque school, until he was 12. The Basque lauburu is prominent at the restaurant and the red, white and green ikurriña hangs over the kitchen.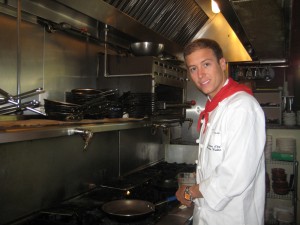 "I love explaining it," Noblia said as he eyed the flag. He wants his menu to be almost exclusively Basque.
On a recent Saturday evening, the restaurant was packed with people. They enjoyed tapas – among them potato croquettes, bacalao, mussels with garlic and parsley butter, and Spanish tortilla. Noblia also serves specialty Basque drinks, like Picon Punch and Kalimotxo and a couple invented at Iluna Basque, like a martini with patxaran and a membrillo martini.
In his free time, Noblia enjoys boating and is thinking about buying his own boat. He tries to take Sundays off. He also likes to ride motorcycles around the city, surf in Pacifica and snowboard during the winter. But he admits that he spends lots of time at the restaurant.
"The one place you can find me is at Iluna Basque," he says. "I'm always working here."
Iluna Basque
701 Union St. at Powell
San Francisco
(415) 402-0011
Open every night 5:30 – 10:30 p.m.