Oinkari Dancers of Boise Finish Tour of Basque Country
Añorga, Donostia, Gipuzkoa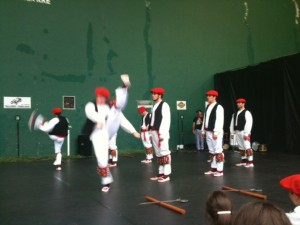 The Oinkari Dancers of Boise strengthened the ties between the U.S. Basque community and the Basque Country as they finished a dance tour of several towns in Euskal Herria yesterday.
The dancers ended their visit with a performance at the Añorgako Festak, the annual festival of the Añorga neighborhood of Donostia in Gipuzkoa. Dancing with the Oinkaris was Arkaitz, the local dance group which performed last year at Boise's Jaialdi festival.
Tyler Smith, president of the Oinkari dance group, said the group had enjoyed their visit.
Thirty-five dancers traveled from Boise, along with the Boise Basque band Amuma Says No . Accommodations for the large group included a stay in university housing in Donostia.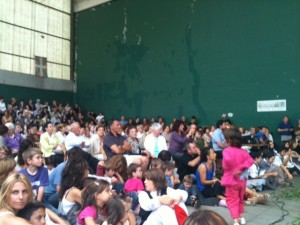 The Oinkaris had been raising funds for six months to help defray the costs of the trip. Over the years, the OInkaris have made many trips to put on Basque folk dance exhibitions for different audiences, including several to the Basque Country.
This was Smith's third dance tour of the Basque Country, but he said the majority of the dancers were here for the first time. They spent two weeks dancing with all the local groups that performed at Jaialdi last year.
The Boise band Amuma Says No played dance music at almost every stop and was well received. Amuma Says No kept fans abreast of their shows with frequent updates on their Facebook page.
For their last evening, July 10, the Oinkaris were off to enjoy a dinner with the Arkaitz dancers.
From the Oinkari website:
Trips to the Basque Country are crucial for maintaining authenticity in our repetoire and forming and maintaining connections with native Basque dance groups. It will also be a chance to showcase what we have to offer in our unique place as American-Basques traveling back to the homeland.