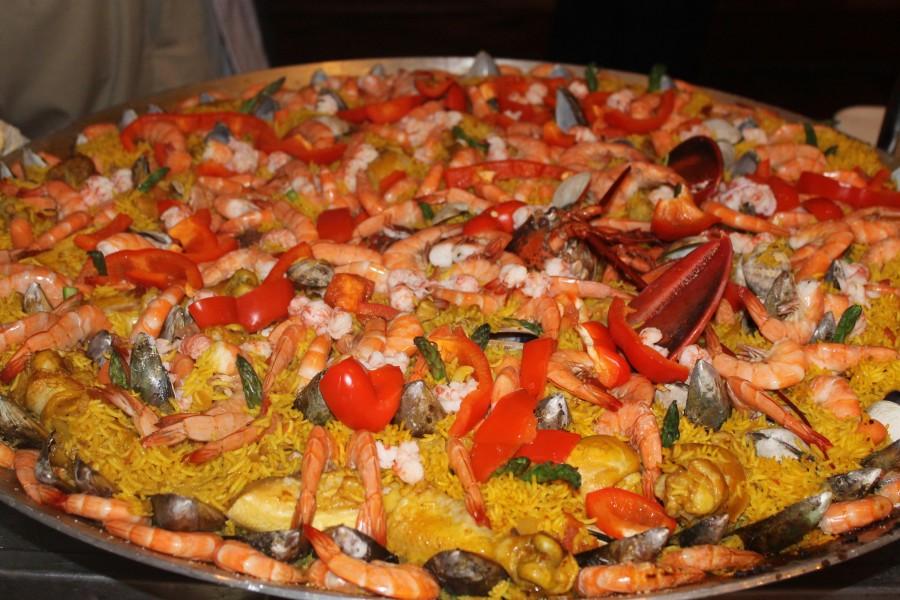 As the owner of a saffron import company, Juan San Mames has developed a distinctive recipe for the Spanish rice dish paella, whose signature ingredient is…saffron.
"Paella is simple," said San Mames recently, as he and his wife Rosa Maria cooked up three huge pans of paella for over 120 youngsters and teachers at the Basque culture camp Udaleku at the Basque Cultural Center in South San Francisco. "It's a peasant dish."
In his view, today's paella recipes are too complicated. You don't need chicken or vegetable broth, according to San Mames. He chops his chicken pieces near the end joints, to expose the bone marrow. The juice leaks into the paella while it cooks and gives great flavor. Clams should be put in with the joint facing down, for the same reason. Besides, canned broth has too much salt, says San Mames.
Paella developed as a dish that peasants cooked over a fire with whatever meat or fish they had available, according to San Mames. As a result, he says it took only 20 minutes or so to cook — the length of time a fire lasts.
He attempts to imitate that simpler recipe when he makes paella. He doesn't fry ingredients then take them out of the pan. He starts with olive oil and garlic, adds diced onions, then one by one the other ingredients. Everything gets added to the same pan.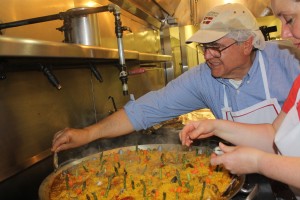 "You integrate one flavor into the next one," he explains.
"To do paella right, you have to have everything ready." That way, you can quickly add each ingredient as it's cooking.
The formula for cooking the rice is to use the measurement of 2 to 1. Whatever quantity of rice you use, just use twice as much water. And make sure the water is boiling before you add the rice.
He soaks the saffron in warm water, because it can take up to 12 hours for saffron to release. Powder releases faster, says San Mames.
San Mames discourages cooks from using paprika (pimenton) or chorizo, because he says they both affect the flavor of the saffron. You also need very little salt, because saffron works as a salt substitute.
"The essence of paella is the saffron," said San Mames. Paprika, a commonly suggested ingredient for paella, neutralizes the saffron taste. And chorizo often has paprika and adds too much grease.
"Spend your money on saffron, because that is where the flavor comes from," he notes. His San Francisco-based company, Golden Gate Brand Saffron, offers a money-back guarantee on its saffron, which comes from Iran or Afghanistan. Learn more about saffron in general from his website, Saffron.com. Here is San Mames' paella recipe. The 1530 refers to the time when the Old World and New World merged, and new vegetables were introduced to the original recipe.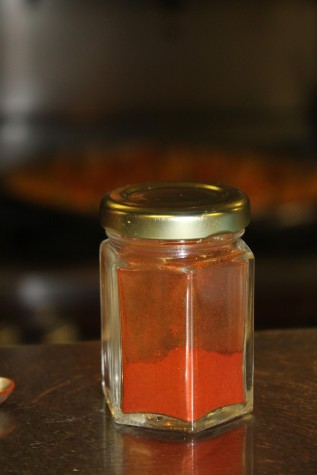 RELATED EUSKAL KAZETA ARTICLES
Gateau Basque
Favorite Basque Recipes
Porrusalda and other Basque soups
Paella De La Veracruz 1530
For 4 people (double amounts for 8 people)
Ingredients
Cut and prepare all your ingredients before you start.
2 tablespoons of olive oil
3 cloves of garlic, lightly chopped
½ to 1 onion, diced
One medium tomato, diced
2 cups or more of any other desired vegetables, such as carrots, asparagus, bell peppers. Always use fresh seasonal vegetables.
1 to 2 chicken drumsticks per person. Make a small cut into the bone of each piece, to release the juice
Water: 2 cups for each cup of rice
2 c. rice. Basmati is a good choice and is the kind of rice that most reflects the old rice of the Valencia Albufera. Use your favorite rice in your paella.
.500 grams (4 capsules) of  Golden Gate Brand Saffron (.250 g. (two capsules) per cup of rice, .125 g. early in the cooking, the other .125 g. a bit later.) If you are using saffron threads, crush them first. Soak saffron in a cup of warm water for 1-2 hours before cooking.
Mussels – 1 per person. Use frozen green mussels from New Zealand or Australia and wait until they're partially thawed out. You do not need to clean them. They come cleaned already and frozen in their own salt water. Use them as they come in the half shell.
Clams- 2 per person. Make sure you wash and inspect clams one by one. Put clams in a container of water overnight with some salt, check clams again in the morning and throw away the ones that are "dead" (not closed). Wash them again until they are clean of sand etc.
Shrimp- 2 per person. The shrimp must have the shell and head on, or they will dry out during cooking. Put a bit of salt on the shrimp.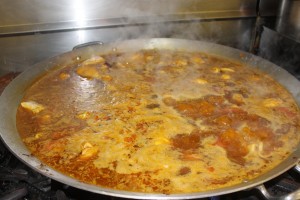 google_ad_client = "ca-pub-7462402184198602";
google_ad_slot = "5138499483";
google_ad_width = 336;
google_ad_height = 280;