Pantxoa eta Peio delight audience in Chino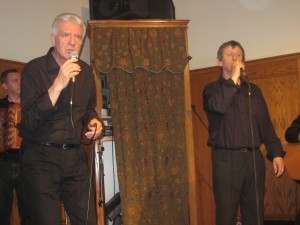 Pantxoa eta Peio, the Basque folk singing duet who made it big with their songs about love for their Basque culture, finally made their debut in the United States yesterday.
The two singers, Pantxoa Carrere and Peio Ospital, who were accompanied by guitarist Mixel Ducau and accordionist Iñaki Dieguez, played to a full house at the Basque clubhouse in Chino, Calif. on March 26. They were heading off to play a concert at the Basque Cultural Center in South San Francisco on Sunday, where a large crowd was expected.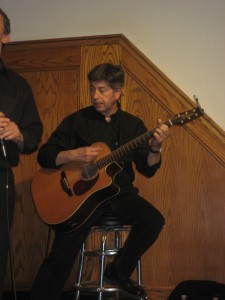 They sang a combination of old and new songs, all in Basque. Many of the songs were familiar to members of the audience who were encouraged to sing along. The singers handed out a songsheet with the words to many songs.
Many in the audience remembered listening to the duo's songs during their heyday, in the 70s and 80s, and a few admitted to having vinyl records of their albums. The duo has been singing since 1969. However, they are still creating and recording new songs. They were selling their latest CDs, "Beste Bat" and "Lurra eta Maitasuna."
Carrere said they had been asked numerous times in the past to come and sing in the United States, and it always conflicted with a concert they already had scheduled.
Over the years they have recorded many albums. They mostly sing in the Basque Country, but they have performed occasional concerts in Europe and South America.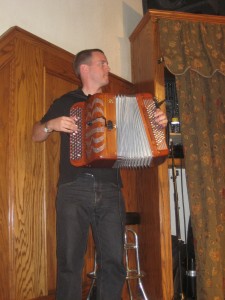 Their sweet melodic music is a combination of politics, promoting peace and liberty, and culture, highlighting many aspects of the unique Basque culture. Their moving lyrics speak of love for their land and their people. And always, their songs are in Euskera, the Basque language.
"To us, it's very important to sing in Basque," said Carrere. "We are militants of the Basque culture," he added with a smile.
The duo normally sings with five musicians, but only two were able to join them for this trip. Ducau juggles his time between six different bands in the Basque Country. Dieguez is currently playing for Cirque du Soleil in the United States, but has played with Pantxoa eta Peio for more than 10 years. Dieguez has recorded five of his own albums, mostly jazz-oriented.
The group had spent the week visiting attractions throughout California by car: Yosemite, Carmel, Monterey, Santa Monica, Hollywood. They were flying back to the Basque Country on Monday, after their concert in the Bay Area.
See our other article on the duo.
— Nancy Zubiri