Long-time members of the Bay Area's Basque community sometimes say that it seems just like yesterday when the San Francisco Basque Club was formed, back in 1960. The club has been celebrating its 50th anniversary in a big way this year, with several significant events.
In March, the club celebrated with a Bertzolaritza — bringing together expert bertsolaris, including two champions from the Basque Country. Next month the club will be celebrating its 50th anniversary with a weekend of sports, music with a group from the Basque Country and great food.
The festivities, sponsored by the club and the Basque Cultural Center, kick off Friday June 4 with an evening dedicated to the history of pilota, or Basque handball, in San Francisco. The program begins with a 6 p.m. handball game at the cultural center's handball court, followed by a dinner and dance with entertainment by Luhartz, a five-piece band from the Basque Country. The group formed in 1983 and specializes in traditional Basque music.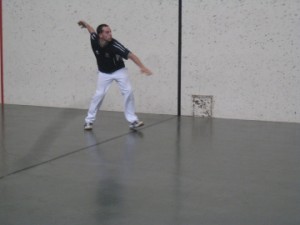 The handball game will feature athletes from the Basque Country. Over the years, the Basque Cultural Center's indoor court has been the scene of many action-packed games, including last year's NABO Pelota Championships.
On Sunday June 6, the party will be in Petaluma, where the Basque Club will celebrate its annual picnic at the city's fairgrounds. Gates open at 9 a.m.
The festival will feature a Basque Mass at 9:45 a.m. with singing by the Elgarrekin Basque Choir.
The day-long event will also feature performances by members of the Zazpiak Bat Klika and dancers from the Zazpiak Bat, Los Banos and Zazpiak Bat Gaztea dance groups. Luhartz will provide music throughout the day.
In September, the anniversary celebration will culminate with a gala party on Saturday, Sept. 25 at the Basque Cultural Center in South San Francisco.
San Francisco Basque Club History
To RSVP for the Friday night dinner, call Anita Arduain at (650) 583-7018 or email RSVP@BasqueCulturalCenter.com
Related Euskal Kazeta articles, video:
Basque Club Bertsolaritza
Celebrating Basque Festival Season
Video: Basque Handball Players
Popularizing Basque Pelota
NABO's 34th Annual Pelota Championships
Below – Euskal Kazeta Interactive Basque Festival Map:
View Basque Summer Festivals in the U.S. in a larger map