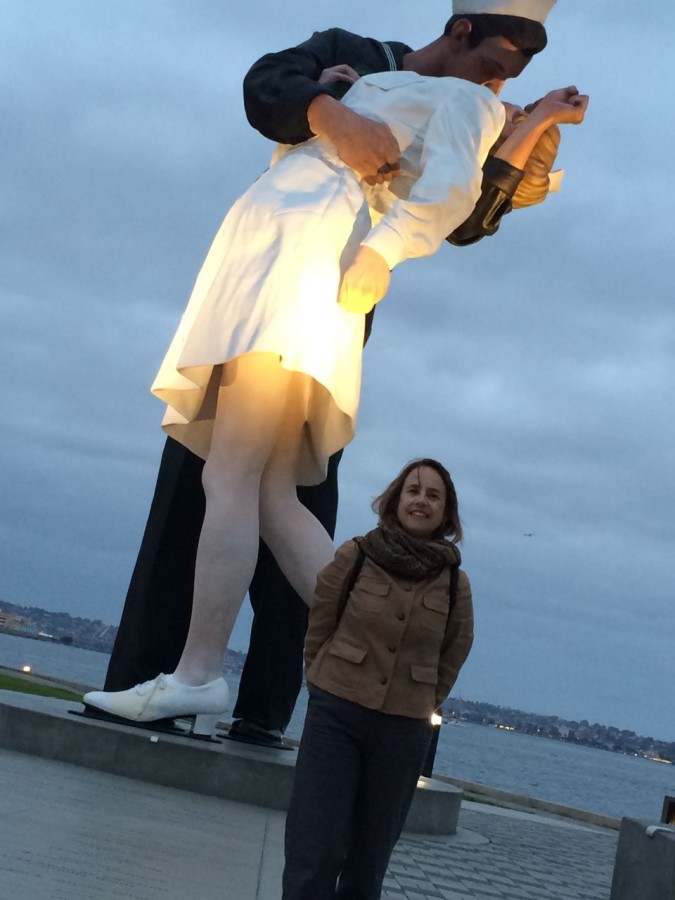 I have been writing about the U.S. Basque community for many years. I recently retired from teaching English at Venice High School in Los Angeles20 years. I dedicate much of my free time to my work as editor of
Euskal Kazeta
.
I am the author of
"Travel Guide to Basque America. "
The second edition of this comprehensive book about the history, communities and festivals of the Basques in the United States was published in 2006.
I worked as a journalist for several California newspapers before becoming a teacher. Among them were:
Los Angeles Times, Oakland Tribune, Antioch Daily Ledger, Sonoma Index-Tribune.

Read an interview with Nancy in Euskal Kultura.
Nancy Zubiri, Editor
Dec 29, 2020

Roasted Chestnuts Helped Basque Families Survive (with recipe)

(Story)

Oct 02, 2020

Mr. Basque: A Look Back at William Douglass' Years Studying the Culture

(Story)

Apr 09, 2020

Porrusalda and other Basque soups and stews

(Story)

Oct 13, 2019

Basque Cultural Day Saturday Oct. 26 at Basque Cultural Center

(Story)

Jul 06, 2019

An Artist's Favorite Basque Books

(Story)

Jun 25, 2019

Dan Ansotegui named National Heritage Fellow

(Story)

Apr 05, 2019

Basque Filmmaker at UCLA to Present "Amaren Eskuak"

(Story)

Sep 30, 2018

Top Basque Cookbooks in English

(Story)

Sep 22, 2018

Musicians Galore at the Chino Basque Festival 2018

(Story)

Jul 16, 2018

Basque youth explore Reno during Udaleku culture camp

(Story)

Jun 14, 2018

Basque-American Group Amerikanuak Produces Album

(Story/Media)

Nov 25, 2017

A Visit to Piperade Restaurant in San Francisco

(Story)

Jun 28, 2017

Udaleku 2017: Cooking Lesson – Tortilla de Patatas

(Story)

Feb 19, 2017

Basque Cultural Center turns 35

(Story)

Nov 23, 2016

The city of Bilbo: A Revival and Evolution

(Media)

Sep 15, 2016

Basque Country musicians liven 2016 Chino Basque Festival

(Story)

Jul 30, 2016

Pride and Emotion for Basque-American at Smithsonian Folklife Festival

(Story)

Jul 08, 2016

Temporary fronton becomes focal point of Folklife Festival

(Media)

Jun 28, 2016

Bakersfield Klika Maintains a Long Tradition

(Story)

Apr 30, 2016

"Song of the Basques" movie launched

(Story)

Aug 10, 2015

Jaialdi Attracts Basques from Around the World

(Media)

Apr 12, 2015

Learning Basque 3 – Listening to videos and songs

(Story)

Nov 23, 2014

A Basque-American's journey to learn Euskara

(Story)

Jun 16, 2014

Recipes for Basque beans

(Story)

May 31, 2014

Bakersfield Basque festival tops the list in California

(Media)

May 25, 2014

Noka trio on tour with Mikel Markez

(Media)

Feb 16, 2014

San Francisco's klika celebrates 50 years

(Story)

Sep 07, 2013

Former sheepherders visit the U.S.

(Story)

Apr 30, 2013

Gateau Basque recipes

(Story)

Dec 05, 2012

Rose Queen Vanessa Manjarrez

(Story)

Jul 31, 2011

The Bilbao Effect

(Story)

Jul 18, 2011

Festival in the Port of Donostia

(Story)

Jul 27, 2009

New Location of Center for Basque Studies Inaugurated

(Story)

Jun 23, 2009

Basque Footprints in the Caribbean

(Story)