Two well-known singers from the Basque Country, Erramun Martikorena and Mikel Markez, both with very different styles of music, are in the U.S., performing together in Rocklin, San Francisco, Bakersfield and Chino, Calif. in the next two weeks.
Martikorena, from the French-Basque town of Baigorri, continued his occupation as a shepherd along with a successful singing career that includes eight albums. The self-taught singer has favored traditional Basque music and his songs touch on the themes of nature and life in the small Basque villages. He published his first album in 1981 and released the most recent album "Kantuz Sortu Naiz" in 2001.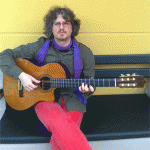 Markez is a more modern folk singer, whose most popular song is "Zure Begiek," Your Eyes. The poet-singer from Errenteria, Gipuzkoa started singing at the young age of 15, and began making his mark in the 90s, with several albums. He has written songs for various other Basque musicians. His most recent album, "Zure Bekiek, Bilduma," came out in 2008. The singer has performed in concerts around the world, including Cuba, Argentina, Venezuela, France and Spain. Both Martikorena and Markez visited the U.S. in 1995, performing in Boise for Jaialdi.
See full story for videos.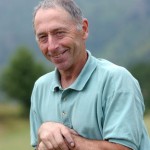 Today, Oct. 9, they are performing in Lincoln, north of San Francisco, for the Basque Club Iparreko Ibarra's annual festival, which this year was combined with the Day of the Singer, Kantari Eguna, sponsored by the North American Basque Organizations.
Next Friday, Oct. 15, they will perform at Patio Español in San Francisco (2850 Alemany Blvd.). The concert is after a paella dinner, which starts at 7 p.m. Cost for the dinner and concert is $25. On Sunday, they perform in the afternoon at the Basque Cultural Center in South San Francisco (599 Railroad Ave.)
Then, the following week they head to the Kern County Basque Club (2301 S. Union Ave.) for a concert Tuesday evening and the Chino Basque Club (15181 Sierra Bonita), where they will play on Sunday, Oct. 24. Their concert follows a club luncheon at noon.
For more details, see our Calendar of Events.
Mikel Markez
Erramun Martikorena
Related links:
Erramun Martikorena's music
Markez Biography and lyrics to songsMikel Markez's website
Artículo en español sobre Mikel Markez
Comprehensive article on Basque music from Buber's Basque Page
Extensive article in Wikipedia on Basque music