A Basque in the News — Literally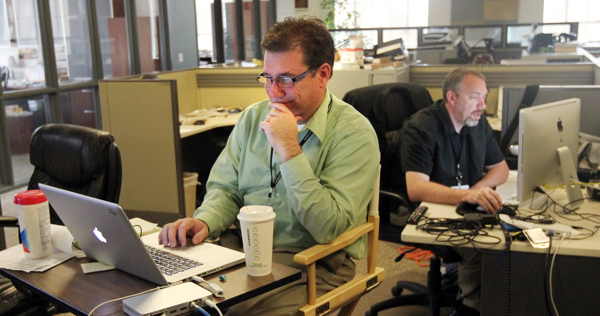 When veteran journalist Louis Amestoy was hired by The Bakersfield Californian, the opportunity was more than just professional. It was also personal: A chance to rediscover his Basque roots.
Amestoy, who was raised in the small town of Hemet in Southern California, knew that his great grandfather had left the Basque Country for Mexico sometime between 1860 and 1880. He had even been to a couple of Basque picnics as a child. But that was about the extent of his knowledge of the Basque culture, Amestoy says. His connection to the Basque Country had been lost long ago after his family moved to Texas and then to California.
Then, last year, he was hired away from a newspaper in Riverside in order to oversee digital initiatives at The Californian in Bakersfield. It was a great professional move, one that would allow him to help produce cutting-edge multimedia news reports.
RELATED EUSKAL KAZETA REPORTS:

Memories of handball at the Noriega Hotel

Bakersfield Basques throw annual festival

Kern County history highlighted in new book

But for the 42-year-old Amestoy, being in Bakersfield also meant being able to learn more about his Basque heritage. The city and surrounding Kern County are a focal point of Basque culture in the United States.
"One of the things I really wanted to do was reconnect with that part of my life," Amestoy recently told Euskal Kazeta.
He did just that.
After starting his new job, Amestoy attended at the 40th annual Kern County Basque Festival last May. With cameras and video equipment in tow, he shot footage and photos of handball players battling it out on the fronton, or court. He chronicled the intricate routines of Basque dancers and interviewed the personalities who help make the popular Memorial Day weekend gathering one of the country's liveliest Basque festivals.
Amestoy used his videos, photos and interviews to create a colorful iBook for The Californian that is titled "Being Basque in Bakersfield."
"It was fun for me … connecting to something that I had not been part of," says Amestoy, adding that the book was well received by local Basques. "People were pleased with it."
The book was one of a number of digital projects that Amestoy has developed at The Californian, where he was recently promoted to director of digital content.
His latest endeavor is an online morning news show called "First Look." The program is a partnership with local AM radio station KERN. It streams live on the web weekday mornings for three hours from a studio that Amestoy created out of an old conference room at the newspaper.
"First Look" quickly received national recognition when it was featured in an online article by the Poynter Institute, a leading journalism training organization.

First Look discusses 'The History of Basques in Kern County'
"We wanted to show people you could do really nice video without spending a lof of money," Amestoy says.
On a recent morning, one of the show's guests was Steve Bass, a local writer and historian who co-authored "The History of Basques in Kern County" with George Ansolabehere
Since moving to Bakersfield with his wife, daughter and dog, Amestoy says, he's repeatedly been asked the same question: You related to the Amestoys?
The longtime Bakersfield family once operated the Amestoy Hotel, a Basque boardinghouse, and still runs the Frank Amestoy Bar.
Louis Amestoy said he is not aware of a relationship. But who knows, he adds, as he continues to discover his Basque roots, he may well find a family link. An Amestoy who is connected to the family who ran a historical ranch in the San Fernando Valley claims they are related. Domingo Amestoy, the first Amestoy who ran Rancho Encino, came from the Basque Country via Argentina, on ship. Today, a street named Amestoy runs through Northridge, named after the family.
In the meantime, Louis Amestoy has become a member of the Kern County Basque Club. His 15-year-old daughter is participating in the club's dance group, which means that Amestoy is at the Union Avenue clubhouse every week. It's been a rewarding experience for his entire family, he says.
"We were just really warmly welcomed," he says. "The more that we're in it, the more that we really enjoy the club."