Al Erquiaga, One of the Biggest Supporters of Basque Culture in the U.S., Dies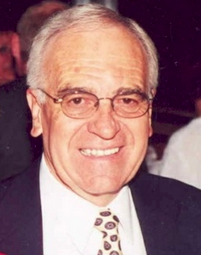 Al Erquiaga, the first president of the North American Basque Organizations and one of the creators of Boise's Basque festival Jaialdi, has died. He was 87.
Erquiaga, of Boise, Idaho, was one of the most dedicated proponents of the Basque culture in the United States. He spearheaded many important Basque cultural projects over the years.
Erquiaga was one of the early supporters of the idea of a federation of U.S. Basque clubs back in the early 1970s. The problem at that time was that the Basque clubs that existed had little contact with each other. "Janet Inda, Miren Rementeria and Al Erquiaga started calling people around the Western United States from the phone book listings," according to Argitxu Camus in a history of the North American Basque Organizations.
Eventually, after many phone calls, a meeting was organized and eventually the North American Basque Organizations was formed. 'Al Erquiaga convinced us of his dream, and thanks to those Boise Basque volunteers, we have been able to accomplish much, much more than we ever could have separately," Pierre Etcharren said in Camus' history. Erquiaga became its first president.
Erquiaga's father, who came from the village of Ispaster, in Bizkaia, herded sheep until after Erquiaga was born. "It was hard work and he realized it was no work for a family, of course, so then he went into farming," Erquiaga said in a 2011 interview with EITB (Euskal Telebista)
"We had a lot of Basque friends, other farmers, and when they were over to visit, it would be late in the evening," said Erquiaga in the article. "I would sit and listen to them talk. I liked to hear them tell their stories, about here or back home, I really enjoyed the stories."
In 1960, Erquiaga was one of seven young Boise Basques who went to the Basque Country on a cultural tour. They became good friends with a group of dancers in Donosti (San Sebastian) who asked them to honor their group by creating a dance group and naming it after them. They did just that, and Boise's OInkari Dancers were born. Today, this group of dancers is a cultural mainstay of Boise's Basque community.
In 1987 came Boise's Jaialdi festival, which later developed into the biggest Basque festival in the United States. A year earlier, Erquiaga talked about the festival idea with a representative of the Basque government in Euskadi, who encouraged him to pursue it. Until then, the Boise community had an annual family picnic in the park.
"Al has really been an idea man," said Meghan Overgaard last year, in talking about Erquiaga and Jaialdi. "Someone who not only dreamed of things but worked on them and brought others in to help realize these dreams. He crossed age brackets—and that was a critical piece to all of this," she said pointing to the fact that the first Jaialdi board of directors included Basques of all ages.
Read more about Erquiaga in the book "Jaialdi: A Celebration of Basque Culture." which you can buy on Amazon.
MORE STORIES FROM EUSKAL KAZETA
The Oinkari Dancers Celebrate 50 Years
Oinkari Dancers to Reunite
The Basque Museum has two oral histories of Erquiaga, from 1991 and 1993 on its website.
Among other awards, Erquiaga received the 2002 NABO Lifetime Contribution Award, the 2004 Euskaldunak Lifetime Legacy Award, and was inducted in 2005 into The Society of Basque Studies in America Hall of Fame.
Contributions for Erquiaga can be made to the Biotzetik Basque Choir, c/o 601 Grove Street, Boise, Idaho 83702 or the Basque Museum & Cultural Center, 611 Grove Street, Boise, Idaho 83702