Basque Art at the Northeastern Nevada Museum in Elko
Artist Bob Ithurralde's Basque-themed oil paintings are currently on display at the Northeastern Nevada Museum in Elko as part of an exhibit timed to coincide with the National Basque Festival.
A reception for the exhibit, "Basque-ing in the Heritage," was held Friday, July 6. The exhibit will continue through August 1.
Iturralde, originally from Nevada, and a resident of Salt Lake City for the last 49 years, has been painting his entire adult life as a hobby. He started specializing in paintings about Basques in the last 10 years.
In a tribute to his father, Jim Ithurralde, who immigrated to the U.S. and herded sheep for several years, the artist has gathered over the years a collection of sheep-related art, "Sheep, sheep and more sheep," which is also on display.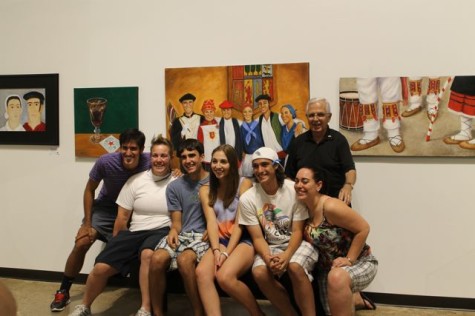 The opening was marked by a visit from a family from Salt Lake City, who were featured in one of Ithurralde's paintings. The Sangroniz family asked Ithurralde to create the painting from a photograph they took in Boise, at Jaialdi 2010, when all the grandchildren were together, in Basque costumes.
"That was tough to paint," noted Ithurralde. The five grandchildren, some from Salt Lake City and some from Boise, arrived for the Friday reception and posed beneath the painting for photos.
The opening was marked by an intimate concert with Basque musician Jean Flesher and his band and impromptu Basque dancing by some of the guests.