Basque Festival season begins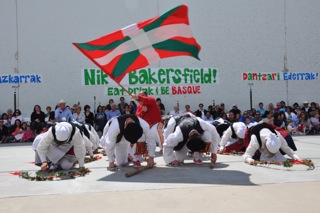 The Basque festival season in the U.S. kicks off Saturday in Fresno with a day of culture, musical performances and great food. The Fresno Basque Club's 37th-annual picnic will begin at 9 a.m. at Rancho Vista Del Rio.
From New England to British Columbia and California, Basques will celebrate their unique culture at picnics and festivals as spring and summer unfold. For a one-stop, interactive guide to the 2014 Basque festivals click on the map below:

View 2014 Basque Summer Festivals in the U.S. in a larger map
Some of the events, such as the Ventura County Basque Club picnic, are smaller gatherings. Others, including the Kern County Basque Club and Boise San Inazio festivals, are huge huge events that typically attract large crowds. But every festival is a focal point for local Basque communities to display their pride in being both Basque and American.