Basque film director, in U.S. for debut of his new movie "Amama"
Awward-winning Basque film director Asier Altuna, who has directed 11 films, will be visiting several cities in the U.S. this week to promote his latest film, "Amama."
Last week he was in San Francisco, where his film was part of the Latino Film Festival. He will be in Boise, Idaho on Wednesday, Oct. 5, at the Basque Cultural Center in South San Francisco Friday Oct. 7, and in Chino, Calif. at the Chino Basque Club on Saturday Oct. 8. "Amama" will also be presented by Altuna at the University of Nevada at Reno on Tuesday, Oct. 11 and at the New York Euzko Etxea on Saturday, Oct. 15. See the film's U.S. schedule.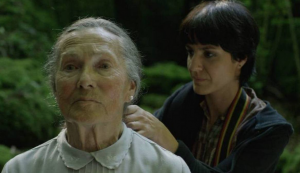 In "Amama," a Basque family's eldest son opts not to take over the family farm, sensitive daughter Amaia (Iraia Elías) steps in to convince their controlling father Tomás (Kandido Uranga) of the inevitability of change.
His film won the Best Basque Film Award at the 2015 San Sebastian International Film Festival.

SEE EUSKAL KAZETA'S RELATED STORIES
Altuna features Bertsolaritza in film

Watch the trailer of the film.