Basque Filmmaker at UCLA to Present "Amaren Eskuak"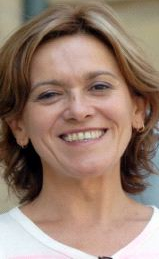 A Basque filmmaker will be in Los Angeles Tuesday, April 16 as part of the screening of her 2013 film "Amaren Eskuak" (The Hands of My Mother). Mireia Gabilondo will speak after the movie, which is being shown at UCLA as part of the 2019 UCLA Latin American, Latinx and Iberian Film Festival: Women's Voices.
The movie, based on a book of the same name by Karmele Jaia, looks at the turmoil in a woman's life when her mother becomes overwhelmed by Alzheimer's disease. UCLA lecturer Unai Nafarrate-Errasti, with the support of the Spanish and Portuguese Dept. at UCLA, is responsible for bringing the film and filmmaker to UCLA. He was also supported by the Etxepare Basque Institute.
The film will be shown at 1:30 p.m. as part of a trio of Spanish movies that start with a reception and then the first film at 12:30 p.m. followed by a Q & A with the filmmakers. The film, in Basque, Spanish and English, with Spanish subtitles, will be shown at Charles E. Young Research Library Presentation Room on the UCLA campus at 280 Charles E. Young Dr. North.
"I wanted to show a movie in Basque — written in Basque and acted in Basque," said Nafarrate, who teaches Spanish and Basque classes at UCLA. This year's festival focus is on women, which is why Nafarrate brought Gabilondo. She is one of only a few directors who will participate in the film festival.

Movie trailer
Nafarrate leads a new Basque Studies program at the university, which includes an elementary Basque language class. His efforts to bring Gabilondo are part of a campaign to promote the Basque Studies program.
The movie reflects on a woman journalist who feels guilty for not spending more time with her mother and not having noticed the signs of approaching Alzheimer's.
"From the beginning, I felt that she had the understanding to capture the essence of the film," said book author Karmele Jaia in an online Youtube interview about Gabilondo.
If you would like to register for the event, click here.