Basque Summer Camp Starts in Chino
Udaleku, the annual Basque culture camp for kids ages 10 – 16, started in Chino, Calif. Monday, June 29 with classes of txistu, Basque folk dance and rounds of the card game mus. The youths also practiced some pilota (handball) at Xavier Aphessetche's local trinketa.
The campers, which number almost 100, have come from Basque communities all over the west, with one even arriving from British Columbia, Canada and another from the Basque Country.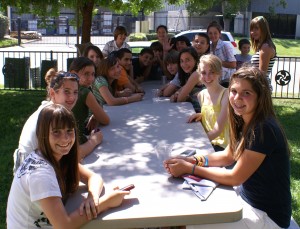 Some of the teachers of dance also flew in from the Basque Country. Professionally trained teachers Ane Albisu and Jexux Larrea will be teaching Euskara and dance. Lisa Corcostegui will be teaching culture, Eneko Espino will teach txistu, while Gabi Mendia and Miren Arozarena will also be teaching Euskara and singing. The local coordinators are Jenny and John Ysursa, Maite Maisterrena and Jeannette Duhart. Organizers will miss Aita Martxel Tillous, the late Basque priest who enjoyed teaching youngsters txistu every summer. He passed away in March from cancer.
Other activities during the two –week camp will include some Euskara classes, as well as lessons on the unique culture, learning how to play the Basque instruments pandareta (tambourine) and txalaparta and perhaps even a lesson or two on cooking a typical Basque dish.
The camp will end on Saturday, July 11, with a dinner and show highlighting some of the traditions the youths have learned. The dinner and show will start at 5 p.m. at the Chino Basque Club. NABO's annual mus finals are also being held that day, starting at 8 a.m. at the clubhouse. See more info on NABO Day in Chino.
Hear Udaleku Musicians Play Andre Maddalen
The North American Basque Organizations (NABO) has been sponsoring the summer camp for youngsters since 1977. It plays an important role in maintaining the Basque traditions among young Basque-Americans. In addition, the camp has created friendships among Basque-American teens all over the West, and these relationships are renewed and strengthened at the annual summer festivals held in each Basque community. In essence, the camp has established a Basque youth network.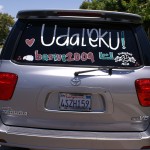 The children are boarding with local families to keep costs down. A large number of the participants are from the Chino area.
NABO's schedule of daily activities and list of participants.