Basque Restaurants in San Francisco Bay Area and Northern California
For a history of San Francisco's early Basque hotels and restaurants, see the bottom of this page.
Basque restaurants in Los Angeles area – Southern California
Basque restaurants in Oregon and Washington
Basque Restaurants in New York and East Coast
History of Basque Family-Style Restaurants
ALTURAS
Brass Rail Restaurant
Lakeview Hwy 395
Alturas, California 96101
(530) 233-2906
CHICO
Basque Norte
3355 Esplanade
Chico, California 95973
(530) 891-5204
DANVILLE
Basque Boulangerie Cafe
411 Hartz Ave. Suite A-1
Danville, California 94526
(925) 208-1631
LOS BANOS

Wool Growers Restaurant
609 H St. (at 6th St.)
Los Banos, California 93635
(209) 826-4593
LOS GATOS
PintxoPote
424 North Santa Cruz Ave.
Los Gatos, California 95030
(408) 797-8688
SAN FRANCISCO
Bask
42 Columbus Ave, at Jackson
San Francisco, California 94111
(415) 392-2275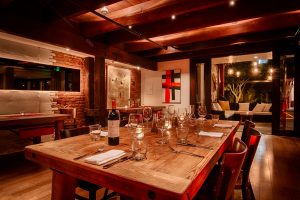 PIPERADE Restaurant
1015 Battery St.
San Francisco, California 94111
(415) 391-2555
SAN RAFAEL
Chalet Basque Restaurant
405 N. San Pedro Rd. (1 mile past Civic Center)
San Rafael, California 94903
(415) 479-1070

Watch our interview with the Basque owner of San Rafael's Chalet Basque
SONOMA
Basque Cafe Boulangerie
460 1st St East
Sonoma, California 95476
(707) 935-7687

SOUTH SAN FRANCISCO
Basque Cultural Center Restaurant
599 Railroad Ave.
South San Francisco, California 94080
(650) 583-8091
More Basque Restaurants in the U.S.
READ SOME OF OUR STORIES ABOUT BASQUE RESTAURANTS
Woolgrowers of Los Banos the Focus of a Film
Chalet Basque in La Puente, Calif. Carried on a Tradition
The History of Basque Restaurants in San Francisco
The traditional family style restaurants that dominated the San Francisco restaurant scene for so many years developed from Basque boardinghouses, which mostly housed single young men who had immigrated from the Basque region of Spain and France. The food for the boarders was served at long tables, and as former boarders and friends joined the dinner table on weekends, the tradition turned into popular restaurants.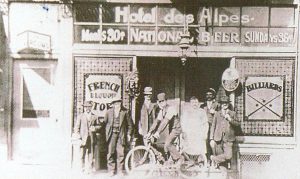 Basques first came to San Francisco after the 1848 gold rush, to make money, like so many other new arrivals. The first hotel opened by a Basque was in 1866. Several other Basques ran hotels in the city in the late 1800s. The history of these hotels is recorded in "Home Away from Home" by Jeronima Echeverria. (Buy it here.) The hotels burned down after the 1906 earthquake, but a new cluster developed in the neighborhood around Broadway and Columbus.
These hotels and restaurants thrived as immigration from the Basque Country continued heavily through the early 1960s. But as the immigrants married and moved out, the boardinghouses slowly went out of business and so did their restaurants. Among the last were the Basque Hotel on Romolo Place off Broadway (although some rooms are still rented there) and Des Alpes Restaurant.
San Francisco's cosmopolitan ambience naturally attracted a new wave of restaurants that reflect the modern Basque cuisine. Chef Gerald Hirigoyen is in the forefront of the trend, with the Basque restaurant Piperade. Read more about the history of the San Francisco Basque community in the book "Travel Guide to Basque America" by Nancy Zubiri. (Buy it here.)

The author of "Home Away from Home" describes the history of the Basque boardinghouses.
CLOSURES since 2010
Fringale in SF closed in 2020 – one of earliest SoMA restaurants
Matxain Etxea Restaurant in San Juan Bautista closed in 2020
Bocadillos in San Francisco closed in July 2010.
Aatxe in San Francisco in May 2017.
Iluna Basque in San Francisco closed in 2010.
Basque Cafe in San Miguel is closed.