Wool Growers Restaurant in Los Banos is Focus of Film
Matt Mealer was working as a cinematographer for a food and travel show out of Fresno when he visited the Wool Growers Restaurant in Los Banos, Calif. in 2018.
The historic Basque restaurant ended up being just a small segment in the Los Banos episode of  the show, "Dine Out Along the Road," but Mealer knew that the venerable institution deserved a bigger focus.
"I wanted to take a deeper dive into the community there," said Mealer, who applied for and received a $5,000 grant from the Central Valley Community Foundation. The "Big Tell" grant is given to local filmmakers to make short documentaries about lesser-known stories in the Central Valley. Mealer created "More Than a Restaurant" about Wool Growers.
The restaurant is very "community-centric," Mealer told Euskal Kazeta in a phone interview. "It belongs to all of Los Banos. You don't see too many places like that in California." In fact, when Mealer told his family about the restaurant, he learned that his grandfather, who lived in Merced, used to eat at Wool Growers with his friends after a day of hunting.
The Wool Growers restaurant, which is about 130 years old, was purchased by Joe Goñi around 1925 and he turned it into a Basque boardinghouse. It has continued to serve Basque food ever since. Brothers Gabriel and Michel Iturbide bought it from Victor Arretche in 1974 and ran it for over 40 years. Los Banos has had a small Basque community for a long time and the local Basque club sponsors an annual festival on the third weekend in May. You can read more about the Los Banos Basque community in the book "Travel Guide to Basque America," available from Amazon.
Today the Wool Growers Restaurant is run by Ruth Reynosa and her daughter Talisa Vander Poel, who went to culinary school in Barcelona. "It's good to see how it's fared under the mother-daughter leadership team," said Mealer. "They came from outside and they had to overcome a certain amount of mistrust." While they are not Basque, they keep the menu just like it has always been, "because when people come, that's what they expect," Reynoso says in the film.
"Every meal I've had there is absolutely amazing," said Mealer. "They have those recipes down." The restaurant continues to serve the huge family-style meals that have been popular at Basque restaurants over the years. Side dishes include soup, salad, fries, lamb stew, plus red wine, in addition to the entrée.
More importantly, the owners cater to the local community. They also get lots of travelers, said Mealer, who heard about people who make trips from San Francisco and other places just to eat at Wool Growers.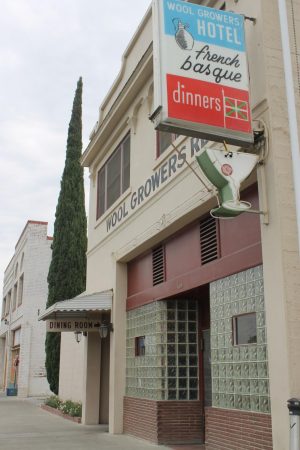 SEE RELATED EUSKAL KAZETA LISTINGS
Basque restaurants in Los Angeles area – Southern California
Basque restaurants in San Francisco Bay Area – Northern California
Basque restaurants in Oregon and Washington
Basque Restaurants in New York and East Coast
Mealer spent the month of August filming the short documentary. He made a 5-minute version of the film for the Big Tell show televised Nov. 27, then made a longer 10-minute film that is now available on Youtube (See video above). Several local Basques, including Amador Zabalbeascoa, are featured in the film.
Mealer, who lives in Fresno, has been a full-time freelance cinematographer since 2016 and started filmmaking in high school.
Wool Growers Restaurant
609 H St.
Los Banos, Calif.
(209) 826-4593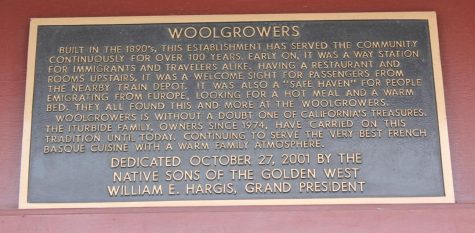 Historic Basque places in the U.S. that are still around.

Episode on Los Banos of "Dine Out Along the Road"