Basques in the 2010 World Cup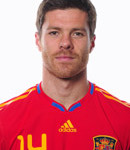 Three players heading to the 2010 World Cup final Sunday are Basque. The Basques include Xabi Alonso, Fernando Llorente Torres and Javi Martinez, of the Spanish team.
Alonso, 28, is the highest profile Basque player on the team. Born in Tolosa in Gipuzkoa, he represented Spain on the national team in the 2006 World Cup. Alonso began playing in the neighborhood league Antiguoko, along with his pal Mikel Arteta (Arsenal, England) in Donostia (San Sebastian). He moved to his local club team Real Sociedad, and was later recruited to the Liverpool team in England. His father Periko and brother Mikel have also played soccer. In 2009, he was recruited by the powerful Real Madrid.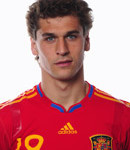 READ RELATED STORIES FROM EUSKAL KAZETA
Llorente and Martinez are members of Athletic Bilbao, a team that as a rule, only hires Basque players. Llorente, 25, is from Pamplona. Martinez, 21, also known as Javimar, is from Estella-Lizarra in Navarra.
Llorente is a forward, while Martinez is a midfielder. Neither Martinez nor Llorente have seen much action during the cup, but Llorente, who is 6 ft. 5 in., did rouse the team with a couple of good plays when he was called in as a substitute for Fernando Torres in the game against Portugal.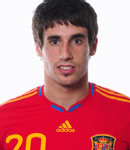 Spain will play Holland in the final round at 2 p.m. Sunday, July 11. The game will be broadcast on ABC, Univision and ESPN.
Two other players, Gonzalo Higuain and Nicolas Otamendi. on the Argentina team, have Basque heritage. Higuain, who plays for Real Madrid, is another member of a soccer-playing family. His father Jorge Higuain also played for the Argentinean national team.
Another well-known Basque in the soccer world, Javier Aguirre, the well-paid coach of the Mexican team, is known as "El Vasco." The Mexican team was disqualified in the second round against Argentina. The 3-1 defeat was the fifth time Mexico failed to get beyond the second round. Aguirre quit just three days later, claiming it was his fault his team lost.