ETA hands over some of its arms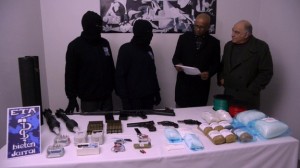 The violent Basque separatist organization ETA has taken a bold move in recent days to show its commitment to its stated desire for a ceasefire. Members of the organization turned in guns and explosives to a team of neutral international witnesses.
See the BBC's report and exclusive video about this week's event. Masked ETA representatives handed over the arms to the witness group in front of a replica of Picasso's painting "Guernica."
The Spanish government called the move "theatrical."
The move by ETA replicates similar actions taken by paramilitary groups in Northern Ireland, according to Reuters news agency.
ETA declared a ceasefire two years ago in October 2011. However, this unilateral proposal has not been accepted by the Spanish government.
The Spanish government in October lost an important case in a European court which called for about 50 of the longest-held suspected members of ETA to be released.
ETA began in 1959 in Spain, when Basques were severely repressed by Dictator Francisco Franco. The German bombing of the Basque town of Gernika was orchestrated by Franco. Basques were forbidden to speak their native language Euskera and the practice of most cultural traditions were banned.
Over 800 people were killed during the group's violent campaign for independence for the Basque region over the years.
Since 1979, when the Spanish Basque region gained partial regional autonomy, popular support for the group has gradually declined to almost nil, demonstrated through numerous anti-violence protests over the years. A popular campaign for peace is currently making headway in the Basque Country.
Previous reports from Euskal Kazeta:
A Compilation of reports on ETA's disarmament
ETA announces a ceasefire
See this report from the British Reuters news agency by Arantza Goyaga
Read the New York Times' take on the disarmament action, including its effect on the Spanish government.
The Spanish El Pais' report on the disarmament meeting
The French Le Monde's report on the disarmament meeting