Jaialdi 2015: Sports Night features Basque strong men and women
Many spectators at Jaialdi's Sports Night likely witnessed feats of athletic strength they had never seen before, unless they are regulars at Basque festivals. The competitions featured hay pitching, wagon lifting and log chopping. Even weightlifting is different, since the Basques take  granite balls and roll them around their neck or carry "txingas," similar to kettle weights, for long distances. They also hoist heavy cylinders that weigh 250 pounds or more.
The traditional events practiced by Basque weightlifters and athletes are typically sports that developed from farming and are called Herri Kirolak in the Basque language of Euskera. The Basque Country, located in northwestern Spain and southwestern France, is still deeply rooted in agriculture and hard work.  Strength is respected.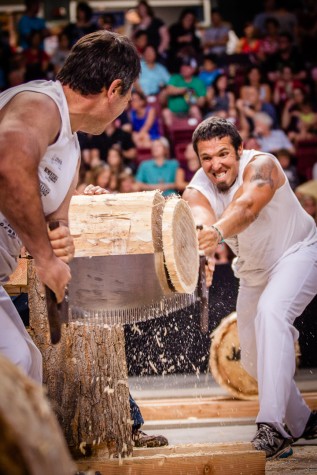 Sports Night  at the CenturyLink Arena in downtown Boise on Thursday, July 30 was sold out, despite the arena's 6,800 person capacity. Some people anxious to see the special event waited in front to buy tickets from individuals.
Jaialdi 2010 also had a Sports Night, but this year saw a first in the competition. Two women, Sandra Perez and Idoia Etxeberria,  joined the athletes in the competitions.
"The strength in these people is incredible," said Boise resident Derek Stormoen, as he watched the action from his seat in the arena. His wife is Basque, and his family has been attending Jaialdi since 1995. "It's great," he said, about Sports Night.
The athletes were divided into two teams, from Bizkaia and Gipuzkoa, and the winner for each event was posted on a board in front of the crowd. Tension built during every competition.  The crowd cheered loudly when the women carried the txingas and when the athletes pitched the heavy hay bales over a high bar.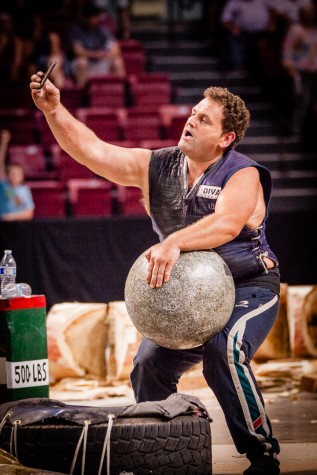 MORE JAIALDI ARTICLES
Basques from All Over the World Attend Jaialdi
What's Planned for Jaialdi 2015
Basque Government Honors Jaialdi Founders
Ane Albisu, who is visiting Boise from Donosti, said she normally doesn't watch the sporting events at festivals in the Basque Country. But she was attending Sport Night to join in the spirit of the festivities. These athletes were probably enjoying the biggest crowd of their lives at Jaialdi, she said.
WHAT TO DO AT JAIALDI – See our schedule

See our video on Sports Night