Jaime Brown 1993 – 2012: Dedicated to perpetuating her culture
Jaime Brown was familiar to everyone who attended Udaleku, the two-week youth camps held every summer to perpetuate the Basque culture.
"She went to just about every one they had," her mother, Jeannette Brown, recalled in a recent interview with Euskal Kazeta. When she was too old to attend Udalkeu, she signed on as an instructor, teaching mus to youngsters attending the camp in Chino in 2009.
Brown passed away on  Dec. 4, after a two-year struggle with a rare form of bone cancer, Ewing's sarcoma. She was 19. The service held for her Dec. 10 in her hometown of Los Banos was overflowing with friends and family, many of them Udaleku alumni who met Brown during the camps.
"She loved dancing, she loved to play mus," her mother said. "She loved to go to every Basque event there was."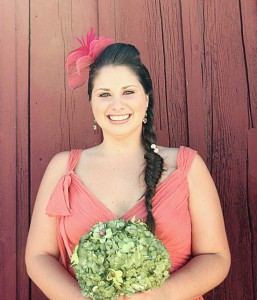 Brown grew up surrounded by Basque culture. She danced with the Los Banos Basque Club since she was young. Her aunt and uncle, the Iturbides, own the Wool Growers Restaurant in Los Banos. Her mother worked there for 35 years. The restaurant is a fixture in the U.S. Basque landscape, having been around since about 1925, initially as a boardinghouse.
"We have a traditional Basque family," said Jeannette Brown. Every year, remembered her mother, the family would gather at the house of Jaime Brown's aitatxi (grandfather) Pierre Heguy, to make tripota (blood sausage) and lukainka (sausage) and her daughter was in the middle of the mix.
She loved to play mus and participated in the Junior Mus tournament at the 2010 Jaialdi in Boise.
During high school, Brown was extremely involved in 4-H and Future Farmers of America and was FFA president. While her grandfather was a cattle rancher, Brown chose to breed sheep. She went to the state fair where she exhibited a Basque costume she had made out of wool, said her mother.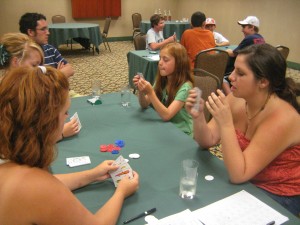 Brown was diagnosed with the bone cancer in January during her senior year of high school. She underwent chemotherapy. In March 2011, doctors told the family that she had no live cancer cells in her body, said Jeannette Brown. But the cancer came back with a vengeance in June. "She was accepted to Fresno State University, but she never made it," she said.
To read more about Jaime Brown, her memorial and Basque traditions, see the story in NABO's Astero.