Madonna Admires Basque Culture, Kalakan member says
Pop superstar Madonna played the Basque txalaparta when she visited the Basque Country and was very interested in Basque culture, according to an interview with a member of the group Kalakan.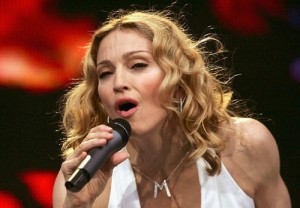 Thierry Biscary, one of the members of the musical trio Kalakan, told Euskadi Irratia radio that they met Madonna in 2011. She was vacationing in Guéthary, a Basque coastal town in southwest France.
Madonna is currently on her MDNA World Tour with Kalakan. She has included a new version of her song "Open Your Heart" in the concert line-up, and it segues into Kalakan's "Segarra Jo."
RELATED EUSKAL KAZETA REPORTS

Madonna To Collaborate With Kalakan
Madonna Kicks Off MDNA Tour with Kalakan
While in Guéthary, Madonna met Kalakan members when they played at a small birthday party she attended with friends, according to a report in EITB.
"She even played the txalaparta that day," Biscary said in his Euskadi Irratia interview.
The MDNA tour kicked off May 31 in Tel Aviv. The tour stops Europe before heading to cities across the United States from August 28 to Nov. 25. Madonna will wrap up with performances in in South America.
Added 7-5-12 Interview with Kalakan re. their concert tour with Madonna (in Spanish).