Madonna to collaborate with Basque trio Kalakan
Pop superstar Madonna has announced that she will be collaborating with the Basque trio Kalakan to remake one of her popular hits "Open Your Heart." The song is scheduled to be part of her World Tour 2012.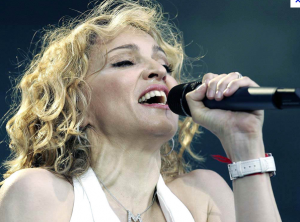 Last summer, Madonna took her family on holiday to France and spent several days in the Basque Country.
The singer met the Basque musicians while visiting the coastal town of Getari. Kalakan played for her during an intimate birthday gig with friends and family, according to the website madonnarama.com.
RELATED EUSKAL KAZETA REORTS:
Basque Rockers Record Album in L.A.
Berri Txarrak Plays New Album at Venice Beach Party
Madonnarama reports that Madonna will be working with Kalakan to create a new, revisited version of "Open Your Heart" that will feature "Sagarra Jo" by Kalakan.
To hear a version of Kalakan's song Sagarra Jo, a song from Kalakan, see the post at Madonnarama.
For more about Kalakan, see the group's MySpace page or its Facebook page.

src="https://pagead2.googlesyndication.com/pagead/show_ads.js">