Mondragon Cooperative helps Basque economy survive recession
The Basque Country may be suffering from a milder recession than the rest of Spain, due in part to what is believed to be the world's largest worker cooperative, reports the BBC.
The cooperative, Mondragon, is headquartered in the Basque town of Arrasate and works as a collective of about 250 companies and organizations. Compared to Spain's 25 percent unemployment rate in Aug. 2012, the unemployment rate in the Basque Country is a significantly lower 15 percent. The rate drops further in Mondragon's home province of Guipuzcoa.
Mondragon Assembly, one of the companies in the collective, saw sales of its machines used for constructing industrial components fall during the recession in 2008 and 2009 and was forced to then lay off several workers. However, the cooperative was able to place the laid-off workers into jobs at other companies within cooperative. 

Improvements in fortunes allowed the company to return the workers to their old jobs in 2010 and it is looking to bring in more employees.
"Today we fortunately have work for everybody," said Inaki Legarda, the Mondragon Assembly's commercial director, according to the BBC. "We are actually recruiting people from other companies within the group because they are now having tougher times than us."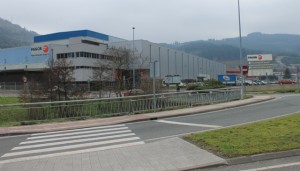 Some workers within the cooperative are shareholders in the company they work for. Most of the 600 employees at Fagor Arrasate, which builds house-sized machines that manufacture car parts, are "members" of the company who are able to vote on major decisions that affect the business.
"If many people are thinking about a problem, then the solution is better," said Anoitz, an engineer at Fagor Arrasate according to the BBC. 

It is the region's "deep culture of egalitarianism" that economist Manuel Escudero argues makes the cooperative model hard to export and replicate in other parts of the world.
According to Oskar Goitia, head of a conglomerate of auto-related firms, for the business model to work, everyone must agree. Consensus on plans is harder to obtain, but eventually, "everyone pushes in the same direction," reports the BBC

Video report on how the cooperative has helped the Basque region weather the crisis.
More information:
The Guardian: Mondragon shows there's an alternative to capitalism.
Video documentary of Mondragon Cooperative Part One
Video documentary of Mondragon Cooperative Part Two