New Basque Book: Jaialdi: A Celebration of Basque Culture
I fell in love with Boise's Jaialdi festival the first time I attended. It was in 1987. The celebration was held at the historic Old Idaho Penitentiary, a group of stone buildings surrounded by a high stone wall. Dance groups from all over the West were there. Dancers, musicians and athletes from the Basque Country also came. Jaialdi was a giant Basque party. And everyone who was there could feel the amazing vibes.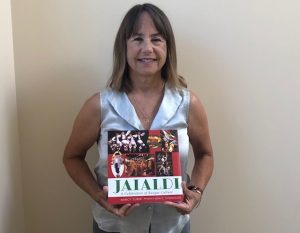 No one knew at the time that it would ever happen again. But in 1990, the state of Idaho was celebrating its centennial and officials asked the local Basque community to host Jaialdi again, and they agreed. The second Jaialdi was even more successful than the first.
Local Basque leaders then knew Jaialdi needed to be repeated on a regular basis. The question became "how often?" Every five years seemed like a good number, and that's what they agreed on. And I have been to almost every one since.
Jaialdi has become a hugely popular event – the biggest Basque festival in the United States – attracting anywhere from 35,000 to 50,000 people, although a reliable estimate is difficult. Sponsored by the local Euzkaldunak club, Jaialdi is put on by about a thousand people, all of them, incredibly, volunteers.
The history of this amazing celebration, the many decisions and hard work that have gone into hosting it for so many years, are all reflected in my new book "Jaialdi: A Celebration of Basque Culture."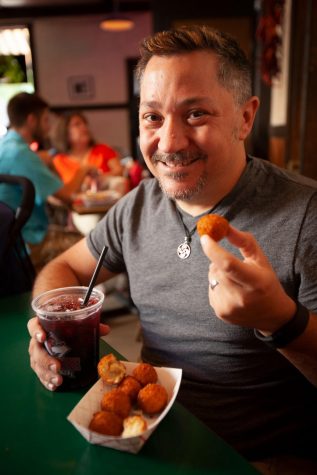 I met photographer Jon Hodgson a couple of Jaialdis ago. He was as obsessed with Jaialdi as I was. He first attended the festival in 2005 and came back in 2010 and 2015. He has taken at least 15,000 photos of this humungous Basque celebration. We became friends at the festival, and he offered me some of his photos to use on my website about the Basque-American community, Euskal Kazeta. At that time, he was happy to simply get some exposure for his photography. But his photos were so beautiful, I told him they belonged in a book. And now, here it is. The photo book, in a paperback edition, is published by University of Nevada Press as part of their Basque Series.
Book signings for "Jaialdi: A Celebration of Basque Culture" have already been scheduled. Hope to see you at one of them. And if you can't make it, buy it from Amazon here.
We'll be selling at:
Saturday July 16
Reno Basque Festival
California Hall at Idlewild Park
75 Cowan Dr.
Reno, Nevada
Sunday, July 17
Booksigning for "Jaialdi: a Celebration of Basque Culture"
2 p.m. Signing with author Nancy Zubiri for her new book
Sundance Bookstore
121 California Ave.
Reno, Nev.
Thursday, July 28
Book signing: "Jaialdi: A Celebration of Basque Culture"
6 – 8 p.m. Meet the author, Nancy Zubiri, for a presentation of her new book
Basque Museum
601 W. Grove St.
Boise, Idaho
Friday, July 29
Book Reading: "Jaialdi: A Celebration of Basque Culture"
4 p.m. Book Reading
Rediscovered Books
180 North 8th St.
Boise, Idaho
6 p.m. – 9 p.m. Friends and Family Night
Basque Center
601 W. Grove St.
Boise, Idaho