New Interactive Games to Learn Basque Language
A website dedicated to digital language learning has unveiled a series of interactive games to help people learn the Basque language known as Euskera.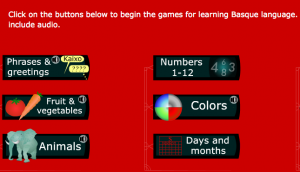 Developed by Digital Dialects, the program features text and audio games that teach phrases in Euskera, as well as the names for numbers, animals and colors. There are also games designed to help users build and strengthen their Basque-vocabulary levels.
Click here to play the Basque language games.
Euskera is a defining characteristic of the Basque people and is largely different from the Romance languages spoken by the European people who surround the Basque Country. To this day, the origins of Euskera are a mystery.
Related Euskal Kazeta Reports:
Basque Language Added to Google Translate
Basic Basque Phrases Online
Filipina Basque Embarks on Journey to Learn Euskera
Download free app to learn Basque language