Noka trio on tour with Mikel Markez
The Basque-American trio Noka and Basque Country folk singer Mikel Markez kicked off a two-week tour this weekend in Bakersfield, Calif.
"It was awesome", said Andrea Bidart, of Noka, after performing Friday night at the Kern County Basque Club. "It was the first time the four of us played together and it was so natural. There's a great connection between us."
Noka is "a trio of Basque American women that performs songs in Basque about women — particularly those who use the 'noka' familiar female address form," according to their website chinoka.com.
Although officially formed in the late 1990's, Bidart, Begoña Echeverría, and Cathy Petrissans have been singing together informally, for many years before that, they told Euskal Kazeta.
"We are not related although we sometimes feel like it, because we grew up together in the Chino Basque community", explained the trio via e-mail. Their fathers "love to sing together" and Petrissans' mother comes from a family of singers, while Bidart's paternal grandfather and Echeverría's paternal grandmother were also "avid singers."
RELATED EUSKAL KAZETA STORY:
Bakersfield Accordion Festival 2014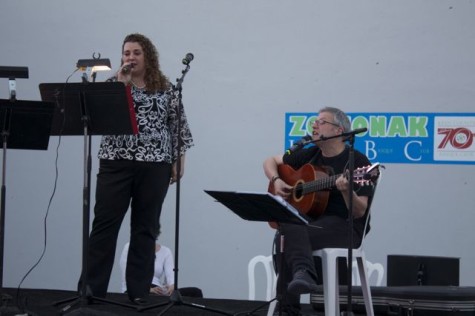 The idea of creating the ensemble came from a friend of Bidart's father, who wanted them to record a song in English, so that afterwards, he could write some lyrics for the girls to sing and record. But after listening to their singing, everything changed.
"We were encouraged to record Basque songs instead," said Bidart via email. "And Noka was born."
Since then, the band has made two albums: 'Noka', comprised mostly of traditional songs; and 'Nokatu (Noka 2)', a record that includes six out of 15 songs written by themselves. (An interesting fact is that all the lyrics on this CD use the 'noka' pronoun.) Currently, they are working on their third CD that will combine traditional songs and ones they wrote themselves. They haven't decided on a release date or a name.
Building bridges with Europe
"We had the honor of singing vocals for Kepa Junkera's 'Herria' CD four years ago," recalls Bidart, "so that's a real highlight, as was touring the Basque Country with Jean Bordaxar and Laukotea, later that year."
Speaking about their tourmate Mikel Markez, a well-known singer-songwriter from Gipuzkoa, they say they have known his music since his very first single 'Zure begiek' (Your eyes), which was a huge hit in the Basque Country, back in 1991. Nonetheless, they first met him in person in 2010, when he was touring the States with Basque singer-songwriter Erramun Martikorena.
"We found him to be a delight," said Bidart. She also had the opportunity to record on his most recent album, 'Indar bat dabil hor' (There is a force around), which was "a great experience" for her. "It is an honor for us to tour with someone of his stature in the Basque music scene!," she said.
"It was a great concert," said Markez after they sang Friday. "I love how easy it is to harmonize with them."
Markez has made several trips to play for the U.S. Basque community.
"Basques overseas are really open-hearted with us and so I would like to be with them, giving them all I have," he said. With regard to the fact that Noka sings old-time Basque songs, Markez stated: "There is no more intriguing a thing than presenting traditional songs in a modern way, because if there is a way for old songs to survive it is by giving them new molds."
Over the years, Noka has performed about 60 concerts in the United States and the Basque Country, where they have toured twice, in 2008 and in 2010. In the U.S., they enjoy singing at Basque events "as there is already an audience familiar with our songs and it´s fun when people sing along," they remark. "But we also hope that we can bring attention to Basque culture through our music, especially the role women have played in music and society more generally. So we are happy to sing at venues that are not specifically Basque."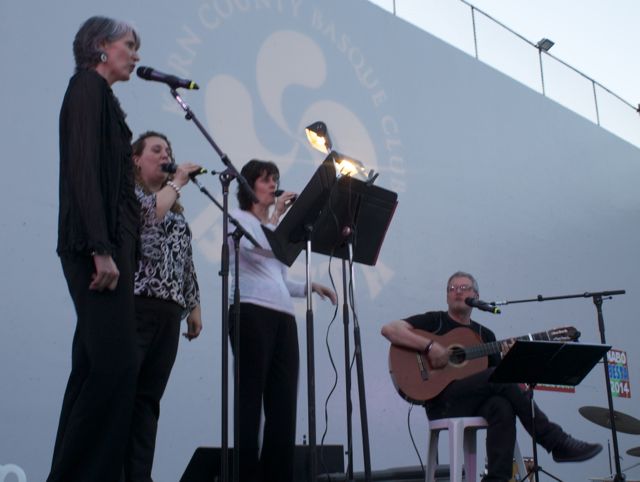 Both Markez and Noka are aware of their strong point while working together: harmonies.
"Nowadays, what I enjoy the most is singing with different voices and with Noka I'm going to have a great opportunity to do so", said Markez. "It's going to be a very positive experience."
In turn, the threesome admits that "we are most looking forward to the collaborations that might emerge [after this tour], especially the harmonies that we might come up with when we get together with him."
Markez put the cherry on the cake to this interview: "So you ask whether there will be future collaborations? Be sure about that!"
NOKA'S TOUR DATES:
May 23- NABO Convention, Bakersfield
May 27- University of California Riverside
May 28- University of California Los Angeles (UCLA)
May 30- San Diego
June 1- Chino
June 5- Gardnerville, Nevada
June 6- Boise, Idaho
June 7- Ontario, Oregon