Rock Band Gatibu tours the U.S.
The popular Basque rock band Gatibu will begin its first tour of the United States and Mexico this week with concerts in Brooklyn, NY and Ciudad de México, D.F. Later in the month, the group will perform at various Basque clubs and conclude its tour with a performance at the Smithsonian Folklife Festival.
Gatibu was formed in 2002 by band members Alex Sardui, Gaizka Salazar, Mikel Caballero, and Haimar Arejita. Since then, the group has given hundreds of concerts across the Basque Country. The group's musical style is all-encompassing, taking inspiration from folk, country, and disco music. Gatibu describes its Western Basque style as "wide-ranging music free of any artistic complexes; the force of rock splashed with pop tones plus passion and the will to live; songs about love and friendship, emotions and changes in mood in daily life."
Since the group's formation, Gatibu has sold out various concert halls and events. In 2006, the group performed at Bilbao's first BBK Live, and has since performed with other well-known bands such as as Ben Harper & The Innocent Criminals, The Cult, and The Cardigans, among others.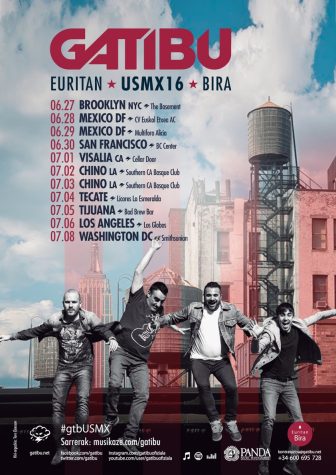 SEE ALL EK'S STORIES ON THE SMITHSONIAN FOLKLIFE FESTIVAL
Gatibu will begin its tour with a performance in New York City, at The Basement. They play at 8 p.m. and there's no cover charge. They play two days in Mexico City, then arrive on the West Coast for a concert Thursday at the San Francisco Basque Cultural Center on June 30. The concert will begin at 8 p.m. with free admission. Gatibu makes a stop in Visalia, Calif. then continues its performances July 2 and 3 at  the NABO Convention festivities at the Chino Fairgrounds in Chino, California.
For more information on the Smithsonian Folklife Festival, where the group will be performing July 7, click here.
To purchase tickets to Gatibu's North American concerts, click here.