Rose Queen Vanessa Manjarrez – A Basque queen
Life has been an exciting whirlwind of activity for 17-year-old Vanessa Manjarrez since she was crowned Rose Queen for the Tournament of Roses.
Manjarrez, who is Basque and a longtime dancer with the Chino Basque Club, was selected queen on Oct. 25 from the group of seven girls chosen for the royal court of the tournament, which sponsors the annual Rose Bowl football game and the Rose Parade.
The prestigious honor includes representing the Tournament of Roses at about 150 media and charity events, culminating with the 2013 Rose Parade in Pasadena on New Year's Day.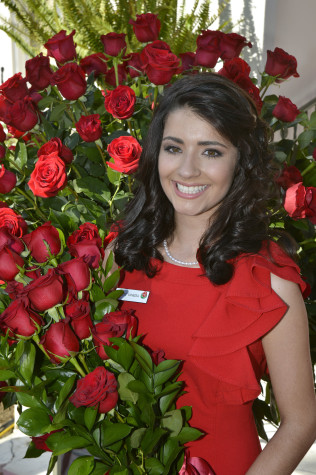 "It's been pretty crazy and a lot of fun," Manjarrez said when Euskal Kazeta recently caught up with her in between activities. Just that morning, she and her court had gone for a test drive of the Tournament of Roses float they will ride for the New Year's Day parade.
Manjarrez and the princesses have visited many local charities as ambassadors of the tournament. One of the highlights she's looking forward to is riding in the Goodyear Blimp.
Manjarrez has always been proud of her Basque heritage. The teen has participated in the Basque folk dance groups of the Chino Basque Club since she was five years old and is currently a member of the Gauden Bat Dancers. She dances and sometimes sings at the annual Chino Basque festivals in July and September.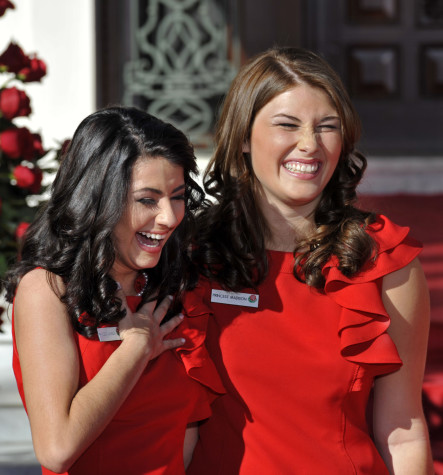 "I don't know what it would be like to not have my culture be a part of my life," said Manjarrez. "I love it."
Not only does she have many friends in the Chino dance group, Manjarrez said, but she visited the Basque Country with her mother this past summer and reconnected with friends she made in past visits. She hopes to learn Basque one day.
She believes her cultural heritage played a part in her selection as queen. Her father, Armando Manjarrez, is Mexican,  and her mother's parents, Pedro & Josefina Sarry, hail from the town of Valcarlos in the Basque province of  Nafarroa. Manjarrez spoke about the importance of her unique cultural background to the selection committee, which considers diversity among its goals in the selection process.
The well-spoken Manjarrez said she applied for the royal court in September with several of her friends. Applying is a tradition at her school, Mayfield Senior School, where about 75 percent of her class of 80 girls typically apply for the court. To be eligible, girls must attend Pasadena schools and be between 17 and 21 years old.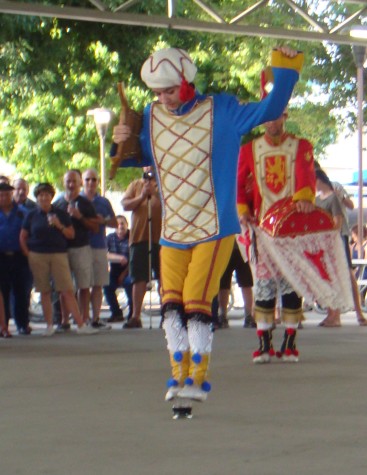 Manjarrez never anticipated winning. Nearly 1,000 girls applied. That group was first whittled down through interviews to 250 candidates and was then reduced to 75 girls. Then 33 finalists were selected. Afterward,  the seven court members were announced. It's a rigorous process in which the organizers are looking for girls who possess  "the right combination of poise, personality, public speaking ability and scholastic achievement," according to the Tournament of Roses website.
"I was doing it because it would be an awesome experience," Manjarrez said.
When the seven member court was first announced on Oct. 8, they called Manjarrez first, because she was the shortest of the group. "They set it up in height order," because the row of girls have to look nice for the photographs, she said.
The winners then proceeded to receive training in speech and etiquette before the queen was announced in front of the Tournament House in Pasadena three weeks later.
"In that moment, I was thinking, 'Oh it's not going to be me, but I'm so excited to see who it's going to be." Then they announced her school and Manjarrez knew she had been picked, because all the girls were from different schools. "I was shocked. I couldn't stop smiling," she said.
"Some of us were thinking, 'Oh, a short girl can't be queen," joked the 5-foot 1-inch tall teen. "I definitely broke that one."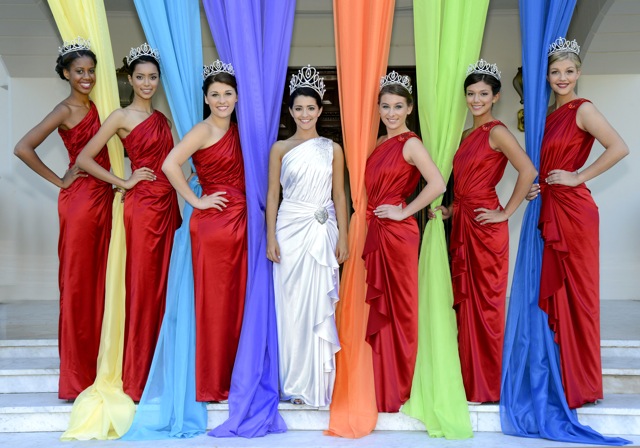 The announcement overwhelmed her family and friends. "My mother was crying during the announcement. She was just ecstatic," she said, adding that her friends were "screaming at the top of their lungs."
Manjarrez said many people have asked her why she thinks she was selected from over 900 applicants. "I tried to be myself and be happy. I guess they saw something that made me stand out."
Vanessa's mother, Maria Sarry, admits she couldn't believe it at first.
"I  thought about my father and how thrilled he would have been," said Sarry. "He absolutely loved the Rose Parade. Every year my parents, who lived steps away from the parade route,  would have a New Year's day party with their Basque friends and of course would watch the parade live. My father never missed a parade in  over 30 years."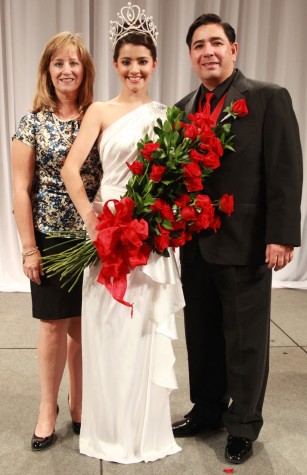 Senior year, with all its activities and college applications, has become very hectic for Manjarrez with the addition of her queenly duties. To manage their time, the members of the court work out arrangements with their schools that allow them to complete most of their work at home and not attend school on a daily basis. They make a point of trying to get enough sleep.
Making decisions about college in the middle of all this has been stressful and nerve-wracking, Manjarrez said. She is looking at a lot of small liberal arts schools. She is also considering studying abroad, including Paris, the Basque Country or Ireland. She was inspired by a girlfriend of hers from San Francisco, Montserrat San Mames, who started at the University of Edinburgh in Scotland this year. Manjarrez is interested in business and science, but is not sure what her major will be.
"I hope to go to college and find what I'm passionate about," she said.
The seven girls all received educational scholarships. The tournament takes care of their make-up, hairstyling and wardrobe for all the events. For the parade, they'll be wearing dresses designed by Tadashi Shoji.
It will be an early 2 a.m. start getting ready for the high point of her reign, the New Year's Day Rose Parade which gets underway at 8 a.m. Pacific Standard Time.
"I'm excited," she said. Her mother can't wait.
"My family and I are looking forward to seeing Vanessa ride down Colorado Boulevard in the Rose Parade on New Year's Day," said Sarry. "We will be so proud watching her on this day as she represents not only her family and friends, her community and the Tournament of Roses but also her Basque and Mexican heritage."
The parade will be televised to tens of millions of people on local ABC or NBC network stations; on cable channels HGTV and The Hallmark Channel; Sky Link TV; and with Spanish language commentary on Univision. In Los Angeles, viewers will be able to see the parade in high definition on KTLA-TV Channel 5.