Smithsonian Institution prepares for summer festival on Basque culture
The Basque ciderhouse experience, with its streams of cider or sagardo, is being replicated in events leading up to the Smithsonian Folklife Festival this upcoming summer. The local Washington DC Basque club joined with a local cidery, ANXO, to sponsor three cider events, titled "Txotx." The third one is coming up on Sunday, May 22 at the Colony Club, 3118 Georgia Ave. Northwest in DC. from 6:30 – 9 p.m.
The Basque-style dry cider resembles traditional cider that was commonly drunk during America's colonial period. The Smithsonian Institution has written about cider as part of its focus on the Basque culture, which will be highlighted at the 2016 Smithsonian Folklife Festival in Washington DC.
The festival, to be held on the National Mall, will take place Wednesday, June 29, through Monday, July 4, and Thursday, July 7, through Sunday, July 10.
Anne Sandager Pedersen of the Smithsonian traveled to the Basque Country in November in preparation for the festival and wrote this blog post about her experiences. She notes in her article that the Basques have been innovative through the centuries, adapting to world changes, while maintaining their traditions, which will also be highlighted. The festival will also put the spotlight on the Basques' tendency for community building, exemplified by cooking txokos and industry cooperatives.
SEE ALL EK'S STORIES ON THE SMITHSONIAN FOLKLIFE FESTIVAL
SEE ALL EK'S STORIES ON THE SMITHSONIAN FOLKLIFE FESTIVAL
The Smithsonian reports: "From an early period, Basques looked beyond their borders for resources and inspiration, a trait that keeps them on the cutting edge of global economic and sustainability movements. However, their commitment to language and cultural preservation may be the key to their success. To present this intricate tension, musicians, dancers, boat makers, cooks, and other experts from the Basque Country and diaspora communities will share their unique traditions and perspectives as part of the Basque: Innovation by Culture program."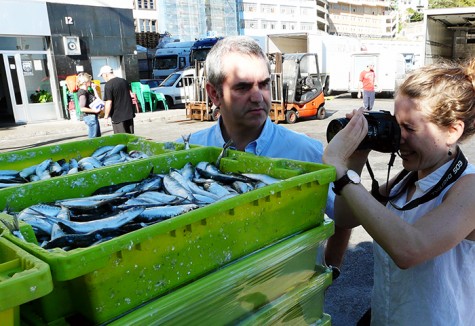 Unlike other street festivals, the Folklife Festival is education-oriented and will present much information about the Basque Country, the culture and the language. Groups and individuals from the Basque Country and the United States will be participating in the event, which is free to the public.
Anyone planning to visit the festival should check here for more information from the Smithsonian.
The Smithsonian has compiled many of its past explorations of the Basque culture on one web page, Basque culture.
Among the Basque cultural resources gathered on this page:
Living Basque in the United States
Sing like a Basque
Recipe: Pimientos Rellenos
The music of txistulari Juan Oñatibia, with music samples you can play (1954)
Food writer Jonathan Gold explores the Basque-American food experience (2012)
The Basques were in Arctic Canada (2009)