"Song of the Basques" movie launched
A new film, "Song of the Basques" captures key facets of Basque culture intermingled with beautiful footage of the Basque Country and poignant stories of its distinct and proud people. The independent film is an obvious work of love for filmmaker Emily Lobsenz, who spoke to Euskal Kazeta about her documentary. Lobsenz will be on hand Friday, June 24 at the Basque Cultural Center in South San Francisco to present her movie as part of the center's Basque Film Series.
Running was what first took Lobsenz to the Basque Country. The filmmaker has been a runner for many years. She went to Europe upon graduating from Amherst College and was working in film, and running, in Spain. A mutual friend put her in touch with a coach from the Basque Country and he invited her to Vitoria to compete in a 10-kilometer race.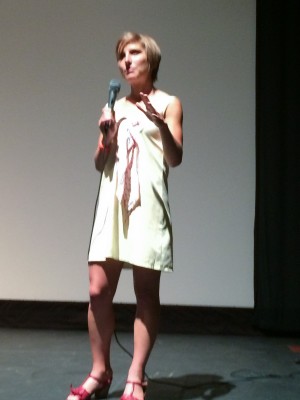 She had traveled in Europe a lot, but the Basque Country, Lobsenz recalls, felt "different."
"I fell in love in one weekend," she says. "It's European, but with a new spin."
The coach, Jon Aramburu Ruiz, told her he wanted to be her coach, and she visited the Basque Country as much as possible, staying with Aramburu's family in his hometown of Baesain, near Vitoria.
"I was just floored by this place," Lobsenz says.
She found the Basque people enthusiastic and warm. Her experience was contrary to the wary, cautious front the Basques can sometimes put up for strangers. But of course, her coach "knew everyone in his town and was vouching for her."
Her brother came to visit her in Spain and she took him to the Basque Country to share her fascination with the Basques and their unique and colorful culture. Up until then, she had been working on other people's films, but her brother suggested she make her own film about this place she was in love with. Her next step was to start recording stories. She moved to Donostia to make her film.
She loves the Basques' indomitable spirit. "It pulses through everything," she said. Lobsenz sums up the Basque people: "they take what they have, make the best out of it and are proud of it."
Her film captures the essence of the Basques and the traits that have helped them survive through the ages and  build a thriving modern society while retaining their distinctive identity. Their classic strength and stubbornness are discussed in interviews with Basque individuals that Lobsenz uses to narrate the film.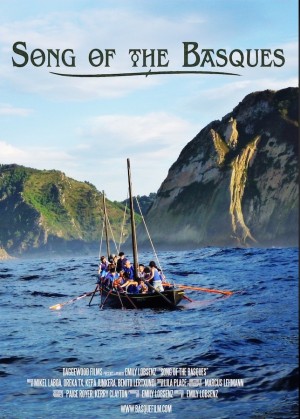 "Song of the Basques" is not one story – it's many different stories – about fishing, singing, dancing and working, all woven together. The film meshes one topic to the next almost seamlessly, so the viewer doesn't even notice that the topic has changed.
"They don't follow a straight line," says Lobsenz, who admits she spent a lot of time thinking about the best way to transition from one scene or topic to the next.
As part of her immersion in the Basque culture, she learned Euskera.
Lobsenz started learning Euskera even before she decided to make the movie. She picked up languages easily, and spoke French and Spanish, but Euskera confounded her. "I was curious to learn it," explained Lobsenz. She tried to take a beginner class in Madrid, but it was full, so she opted to teach herself.
Her friend laughed at her when she saw her making flash cards and wondered why she would go to all that trouble.
"I thought it was such a fun language to learn,' Lobsenz says. She was training for triathlons then and she would download podcasts from the radio program Bilbao Irratia to her Ipod. "I would go on these training rides just so it was in my ear." She ran with Atletico San Sebastian and they refused to speak to her in anything but Euskera.
Many of her interviews for "Song of the Basques" are in Euskera, as well as French and Spanish. English subtitles thread the conversations together. She interviewed her subjects in the language they were most comfortable with.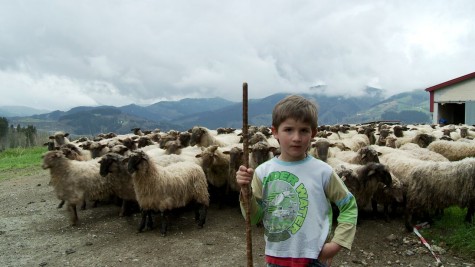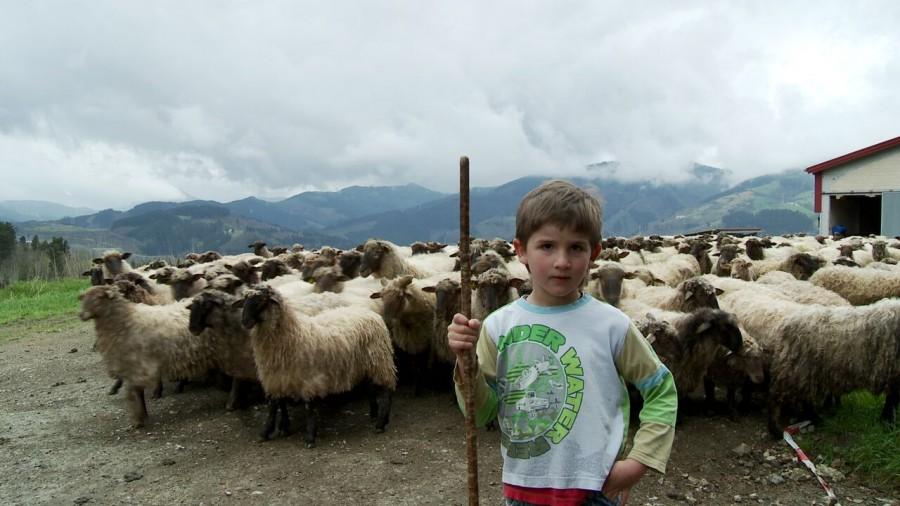 "I don't think I could have made the film without speaking Basque," says the filmmaker. "Some people would have never given me the time of day."
She remembers meeting renowned singer Mikel Laboa at a neighborhood bar. He overhead her speaking in Euskera, with her American accent, and started a conversation with her. She planned to include the singer in the film, and had scheduled an interview with him when he passed away.
"The fact that I spoke Basque showed them how much it meant to me," she said. She couldn't believe her luck when she wrangled an interview with the popular singer Benito Lertxundi. Unfortunately, the camera ate the tape, remembers Lobsenz. "He said 'don't worry about it, come back tomorrow.'"
SEE EUSKAL KAZETA STORY ON
BENITO LERTXUNDI
"Song of the Basques" was well received at an early release at Jaialdi in Boise, Idaho in July.
The film, which officially launched last month, is being show through an innovative method called Gathr, in which people in different communities sign up online for a local screening and then help get enough people to buy tickets online. In addition, Lobsenz expects Basque clubs will organize their own screenings.
After she finished the film, Lobsenz left the Basque Country and moved to New York City to work on other films, but also to oversee the distribution of "Song of the Basques."
"I'm excited that people are seeing it," said the filmmaker.
To sign up for a screening near you, or to attend one, click here.
To get notifications about where it's being shown, like the film's Facebook page.
More information about the film is available at Basquefilm.com
Lobsenz can be reached at emily@dagfilm.com.