Team USA Men Win Handball Match; Women Lose at World Championships of Pelota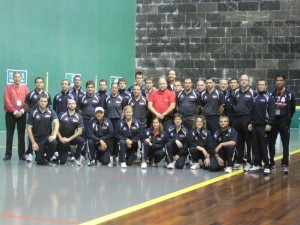 Members of a doubles handball squad from the United States beat a veteran team from Argentina Monday during in a trinquete battle at the World Championships of Pelota in Pau, France. The victory by A. Etcheverry and Garateix was a bright spot for Team USA on a day when several U.S. squads lost to more powerful opponents.
Late Sunday, the undefeated women's paleta goma squad from Team USA (Izoco and Pochelu) lost a hard-fought trinquete match to Chile by a score of 17 to 30. The U.S. women and Chile were back on the court Monday afternoon. The outcome was the same with Team USA losing 15 to 30.
And in early action Monday on the 36-meter court, U.S. men's squads were beaten by France and Uruguay.
Click on the following link for Team USA's Schedule
In the loss to France on Monday, Team USA members Roberto Huarte and Tony Huarte fought a good struggle but ended up losing by a score of 14 to 22. In paleta cuero, Jose Huarte and teammate Etchebehere of the U.S. were beaten by Uruguay. The score was 22 to 35.
In men's frontenis, The U.S. duo of Iniestra and Arroyo lost to Mexico 14 to 30. The match was played on a 30-meter court.
The tournament, sponsored every four years by the International Federation of Basque Pelota, features more than 500 athletes from 22 countries seeking medals in more than two dozen pelota specialties.
Some of the tournament highlights from Monday are listed below. For a complete list of results, click on the following FIPV web page.
Trinquete
Argentina 7 — USA 40, men's doubles handball

36-Meter Court
USA 22 — Uruguay 35, men's paleta cuero
France- 22 — USA 14, men's double handball
Chile 22 — Cuba 35, men's paleta cuero
Mexico 22 — Argentina 0, men's singles handball
France 22 — Spain, 19, men's singles handball
For updates on the championship action, check out the FaceBook page of the United States Federation of Pelota.
The video Below shows Argentina beating Mexico in a paleta goma match: