Team USA Women Hang Tough on 3rd Day of World Pelota Championships
As of Sunday afternoon, the trinquete women's paleta goma squad from Team USA was on a two-game winning streak as it prepared to play a veteran Venezuelan duo at the World Championships of Pelota in Pau, France. The match was scheduled for late Sunday. (Euskal Kazeta will provide the score as soon as it is available.)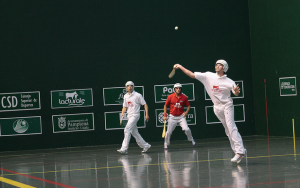 In key action on Sunday, the U.S. duo of J. Huarte and Etchebehere hung in there against a strong Venezuelan squad but lost 40 to 31 in pala corta on the 36-meter court. Huarte also played a tough paleta cuero match with teammate Indart as the United States battled Cuba in a 36-meter match. The U.S. men ended up losing 35 to 27 but were competitive to the end.
The tournament, sponsored every four years by the International Federation of Basque Pelota, features more than 500 athletes from 22 countries seeking medals in more than two dozen pelota specialties.
The men from Team USA were scheduled to play Spain late Sunday in trinquete doubles handball. (Euskal Kazeta will provide the score as soon as it is available.)
One Monday, the women trinquete paleta goma players from Team USA are scheduled to face off against an experienced duo from Chile. The paleta goma team, which includes Mireille Acheritogaray from South San Francisco's Basque Cultural Center, recorded victories over a good Brasil squad on Saturday and a solid Canadian duo the day before.
Some of the tournament highlights from Sunday are listed below. For a complete list of results, click on the following FISV web page.
36-Meter Court
Venezuela 40 — USA 31, men's pala corta
Cuba 35 — USA 27, men's pala cuero
Venezuela 38 — Cuba 40, men's pala corta
Venezuela 0 — Mexico 22, men's singles handball

30-Meter Court
Spain 30 — USA 14, men's frontenis
Mexico 30 — France 8, women's frontenis
Trinquete
Cuba 40 — Argentina 12, men's singles handball
Chile 5 — Argentina, 30, men's goma
Spain 40 — Mexico 8, paleta cuero
Argentina 11 — France 30 women's goma
For updates on the championship action, check out the FaceBook page of the United States Federation of Pelota.
Click on the following link for Team USA's Schedule