Top Books on the Basques
If you are Basque or have recently learned you have some Basque blood, you might be curious to learn more about these ancient people. While some of the best books about the Basques in English have already been reviewed in our article "An Artist's Favorite Basque Books," here are some additional books you might want to read for more info: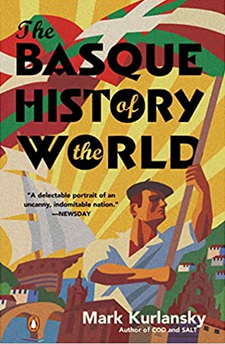 Basque History of the World – Mark Kurlansky
This is the modern version of "Book of the Basques" – a lengthy overview of the Basque people and their history. In an interview with PBS, Kurlansky reported that initially he went to Spain to write about resistance to Dictator Francisco Franco, yet found none, with exception of the Basques, and he admired that. He picks and chooses specific topics – his specialty – about the Basques, such as whaling, the beret, St Ignatius and the bombing of Gernika, and explains them in great detail. For anyone interested in the Basques, the book with all its details is fascinating. Click here to buy the book from Amazon.
SEE OUR LIST OF TOP BASQUE COOKBOOKS
Our post contains affiliate links and any purchases you make through our links helps support Euskal Kazeta, at no additional cost to you.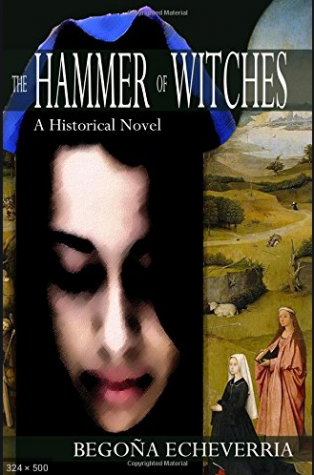 The Hammer of Witches – Begoña Echeverria
Basques, particularly young women, were accused of witchcraft during the 1600s, during the time of the Spanish Inquisition. But why were Basques in particular dragged into these inquisitions? This engrossing historical novel by Echeverria published in 2014 answers the question. In narrow-minded villages, women who did not follow Catholic rituals, or who expressed any non-conforming beliefs, were suspect. This was compounded by fear and guilt generated by Catholic officials obsessed with imposing Catholic law and dominance. The historical details are realistically woven into the page-turning plot about village life in the 17th century and the women who were persecuted. Click here to buy the novel from Amazon.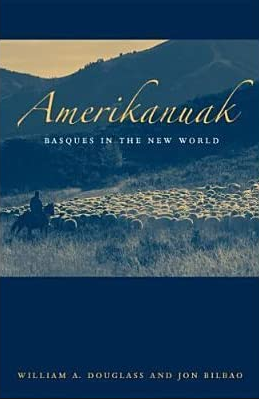 Amerikanuak: Basques in the New World – Douglass and Bilbao
This book, published in 1975, was the first to detail the trails of Basque immigrants from the Old Country to South America (1500s to 1900s) and later to the American West (1850s – 1960s). While it is written by two academics, with plenty of footnotes, the book is easy to read and includes fascinating historical details. They cite many newspaper articles and historical documents that make direct references to the presence and activities of Basques in early America. For example, "Amerikanuak" tells of a French journalist visiting Murphy's Camp who met "two Basques within a space of six square feet who got 10 to 12 ounces of gold per day, while their neighbors found nothing." Click here to buy "Amerikanuak" from Amazon.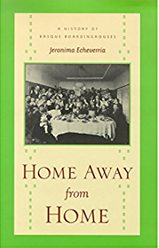 Home Away From Home – Jeronima Echeverria
For Basque-Americans familiar with the boardinghouses that dotted the landscape of earlier Basque communities, this book will be interesting for you. It's full of details about that earlier era, with comprehensive lists of names of hotel owners, stories about them, and maps of where hotels were located throughout the West. It's broken down by state, cities and towns, so you can read the history of your particular Basque-American community. Her research also reflects information about handball courts built by the Basques. There was typically at least one handball court in each neighborhood. Click here to buy Home Away from Home from Amazon. A good companion text is Travel Guide to Basque America.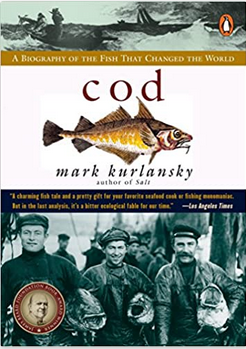 Cod: A Biography of the Fish that Changed the World – Mark Kurlansky
This is a fascinating and fairly quick read about cod fishing and the early fishing industry. The author's research into the cod fishing industry is what led him to the Basques and his fascination with the Basque people, which took him to his next book, Basque History of the World. Basque sailors ventured out on the seas, mostly seeking whales and their precious whale blubber, they discovered that salted cod kept it edible for their months-long journeys. Kurlansky writes about the important role cod had in the European exploration of the Americas, American independence and the slave trade. Cod, particularly salted cod, was a valuable as money in early times. To buy this book, click here.
Interested in listening to books on your phone? Sign up for Audible.
The following books are also essential reading for those seeking information about the Basques. To see our reviews of these books, see our article An Artist's Favorite Basque Books:
"Book of the Basques"
"The Basque Kitchen"
"The Basque Table" by Mary Alustiza
"Guernica"
"The Basque Hotel"
"Travel Guide to Basque America"
"Sweet Promised Land"
Interested in listening to books on your phone? Sign up for Audible.