Bakersfield Basque Community Featured in TV Report
Bakersfield's thriving Basque community was featured in a news report by local TV station KGET Channel 17.
The report highlighted local landmarks such as Wool Grower's restaurant and the Noriega Hotel. Historian Steve Bass was interviewed and talked about Kern County's rich Basque history.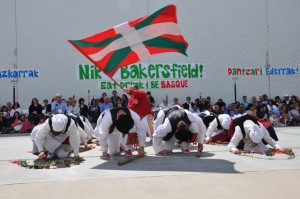 Also featured in the report was visiting Basque Professor Unai Nafarrate, who is teaching a language and culture class at Cal State Bakersfield.
Nafarrate, who comes from Arrasate Gipuzkoa, will be a visiting instructor in the university's Department of Modern Languages during the winter and spring 2012 quarters
RELATED EUSKAL KAZETA REPORTS:
Kern County Basques Throw Annual Festival
Cal State Bakersfield Offers Basque Language, Culture Course
Bakersfield's Noriega Hotel Wins Prestigious James Beard Foundation Award