Basque Athletes in the 2021 Tokyo Olympics
Results of Basque Participation in the Olympics
Numerous Basque athletes participated in the 2021 Tokyo Olympics. They were usually competing for the countries of Spain and France. They are identified by their hometowns. Here are their results. Basques participated in the three medals won by Spain. If you know of any others, feel free to add them in the comments below.
CANOE SLALOM
Maialen Chourraut Yurramendi won the silver medal for Spain for Women's Canoe Slalom. She won the gold medal in the same sport in the Rio Olympics in 2016 and the bronze in London. She's from Lasarte, Gipuzkoa. Read our story about her 2016 gold medal.
Ander Elosegi Alkain, from Irun, Gipuzkoa, came in 8th in this sport. Competing at the international level since 2003, Elosegi has won two silvers and a bronze in world championships. This was his fourth time competing in the Olympics.
See our Report on the Basques in the 2016 Olympics
SOCCER
At least five players on Spain's men's soccer team are from the Basque Country. Spain earned second place in men's soccer, after beating Japan in the semifinal 1-0, but losing to Brazil in the final game 2-1. A shot by Mikel Oyarzabal gave Spain its single goal during the final game, but Brazil earned the win with a shot in extra time.
Mikel Oyarzabal Ugarte — The professional soccer player plays forward for Donostia's Real Sociedad team and is from Eibar, Gipuzkoa. He scored the only goal of the delayed 2020 Copa del Rey final against Athletic Bilbao in April which helped Real Sociedad win the championship after 34 years.
See our story about Athletic Bilbao's participation in two Copa del Rey finals.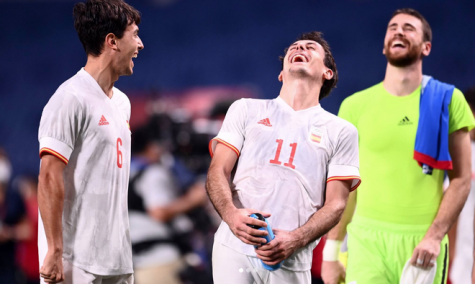 Unai Simon Mendibil – Played goalkeeper for the Spanish team and had some close calls during the final game. The Athletic Bilbao goalkeeper is from Vitoria-Gasteiz, Alaba.
Mikel Merino Zazon – scored the opening goal against Argentina for Spain's soccer team. He is also plays for Real Sociedad. He is from Irunea-Pamplona, Nafarroa.
Jon Moncayola Tollar – Professional player for Club Atletico Osasuna's soccer team. He is from Garinoain, Nafarroa and grew through the Osasuna youth ranks.
Martin Zubimendi – Plays for Donostia's Real Sociedad team.
HANDBALL
Two Basques played on Spain's men's handball team, which earned the bronze medal in a close 33-31 game against Egypt.
Julen Aginagalde Akizu is from Irun, Gipuzkoa.

Eduardo Gurbindo Martinez is from Irunea-Pamplona, Nafarroa.
Nerea Pena Abaurrea was part of the women's handball team for Spain. She also competed in the 2016 Rio Olympics. She is from Irunea-Pamplona, Nafarroa. The team beat France and Brazil, but didn't make it out of the first round.
WATERPOLO
Alberto Munárriz Egana – Spain's men's waterpolo team, which included Munarriz, lost the bronze to Hungary. He scored two of the team's goals in the final game, but they lost 9-5, which Munárriz blamed on a lack of unity within the team.
TENNIS

Garbine Muguruza, who represents Spain, made it to the quarter finals before losing to Kazakhstan's Elena Rybakina. This is her second time representing Spain in the Olympics. Muguruza is from Caracas, Venezuela, but her father, Jose Antonio Muguruza is from Eibar, Gipuzkoa and she represents Spain in tennis competitions. She won Wimbledon in 2017 and beat her idol, Serena Williams, in the 2016 French Open.
See our previous story on Garbine Muguruza's 2017 Wimbledon win and her Basque heritage.
GOLF
The world's current top golfer, Jon Rahm Rodriguez, winner of the 2021 U.S. Open, was scheduled to play in the Tokyo Olympics. Unfortunately he tested positive for coronavirus right before the games started and as a result, he was not able to compete. Rahm, of Barrika, Bizkaia, attended Arizona State University.
Carlota Ciganda Machiñena, of Irunea-Pamplona, represented Spain on the women's golf team. She came in 29th. Like Rahm, Ciganda also attended Arizona State.
SURFING
This was the first Olympics that included surfing as a sport.
Pauline Ado, who grew up surfing on the beaches of Anglet, represented France in the Olympics. She came in 9th, losing to an Australian surfer in her last heat.

A Boise TV station, KTVB, gives a quick rundown of Basque athletes
TRACK and FIELD
Track and Field star Asier Martinez Echarte of Zizur Mayor, Nafarroa came in 6th in the 110m. hurdles.
Sergio Fernandez of Barañain, Nafarroa was eliminated early in the 400m. hurdles.
Teresa Errandonea of Irun, Gipuzkoa, ran the women's 100m. hurdles for Spain. She also was eliminated early.
CYCLING

Ane Santesteban Gonzalez, of Errenteria, Gipuzkoa, competed in women's cycling for Spain. She finished 28th in the women's road race. That was an improvement over her record in Rio 2016, where she came in 47th.
Brothers Gorka and Ion Izagirre Insausti of Ormaiztegi, Gipuzkoa both cycled for Spain. Gorka finished 23rd and Ion finished 79th. Their father, Jose Ramon, was also a cyclist.
Omar Fraile Mantarranza de Santurtzi, Bizkaia is a professional road racing cyclist. His results were not available.
JAVELIN
Odei Jainaga, of Eibar, Gipuzkoa, came in 14th in the javelin throw for Spain. His mother, Cristina Larrea, was the national javelin champion in Spain in the 1990s.

MARATHON
Elena Loyo of Vitoria-Gasteiz, Alaba, placed 29th in the marathon. The race represented the Olympic debut for the 38-year-old, who was happy with her time of 2:34.
CANOE
Inigo Pena, who competed in the Men's Kayak Double Canoe Sprint, is from Zumaia. His team came in 6th place.
Watch this video of the town of Zumaia celebrating their Olympic athlete.
Virgina Diaz Rivas – Diaz, of Getxo, Bizkaia, placed sixth with her partner Aina Cid Diaz in her Olympic debut in the women's pair.
BASKETBALL
Xabi Lopez Erostegi, from Getxo, Bizkaia, played on Spain's basketball team, which lost to the U.S. in the quarterfinals.
SAILING
Kevin Peponnet – Sailing for France, Peponnet with his partner came in 11th overall in the 470. He's been sailing from the age 6 at the Yacht Club Basque of St. Jean de Luz.
FIELD HOCKEY

Jose Maria "Chefo" Basterra Ochoa played for Spain's men's team which lost in the quarterfinals to Belgium. The professional field hockey player started his career playing for the Real Club Jolaseta in Getxo, Bizkaia to keep up with his friends who had started playing hockey.