Basque Footprints in the Caribbean
Reporting from Old San Juan, Puerto Rico.
Walking around Old San Juan, you're likely to see the Basque name Norzagaray.
It's the street that stretches between San Felipe del Morro Castle and San Cristobal Castle, the two most important sights to see in this historic neighborhood facing the Caribbean Sea. The street — lined with bright green, pink, blue, orange and yellow colonial houses across from the enormous stone walls that protected the city — is named after Fernando de Norzagaray, who was the governor of this island from 1852 to 1855.

Watch our video on the early Basque arrivals in Puerto Rico

Basque names run throughout Puerto Rico's history. Indeed, Basques played a significant role in Spanish rule of the island. In addition to Norzagaray, at least six other governors carried Basque names during the 1800s: Juan Vasco y Pascual, Gonzalo de Arostegui, Jose Navarro, Rafael de Aristegui, Rafael Echague and Jose Maria Marchesi y Oleaga. The first bishop of Puerto Rico was Juan Alejo de Arizmendi, and a statue of him was put up in recent years in the town of Guaynabo.
But unlike today, where Basques embrace their cultural identity, Basque officials in colonial Puerto Rico were beholden to the Spanish crown and considered themselves Spaniards, according to Javier Arzuaga, a Basque who has lived in Puerto Rico for many years.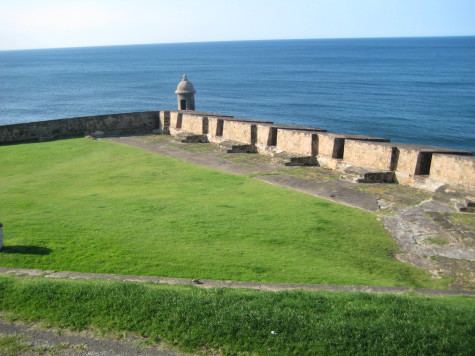 "They didn't have that sense of being Basque the way we feel it today," said Arzuaga, originally from Oñate, Gipuzkoa. "That didn't come until after the Carlist Wars, at the end of the 1800s," he said.
Basques continued to arrive in Puerto Rico. Estela Cifre de Loubriel researched many of the immigrants to this "Isla del Encanto" and wrote "La Formacion del Pueblo Puertoriqueño." One volume dealt largely with the Basques. This volume, published in 1986 by the Instituto de Cultura Puertorriqueña, lists about 1,100 Basque and Navarrese families who lived here. (Click here to see whether your ancestor is included in the registry.)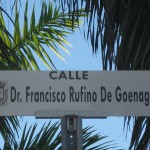 The names of their Basque descendents run throughout local phone books. As far as Arzuaga can tell, the Basques listed in Cifre's book were among troops sent by Spain before the Spanish American War of 1898. Soon after, Puerto Rico was turned over to the U.S. The soldiers just stayed here, said Arzuaga.
Up until a few years ago, Basques here had an active club, Vascos in Puerto Rico, according to Jesus Lasaga, the most recent president. The club existed for 10 to 15 years, mostly during the 1990s. At one point, members even rented a house for their gatherings. At its height, about 125 people joined together for traditional Basque holidays. For Aberri Eguna, the feast of the Basque homeland, they would drive in a caravan of cars, waving the ikurriña, or Basque flag, and celebrate with a mass and picnic in the countryside.

The significance of the Basque presence on the island was underscored in 2007 when Basque lehendakari (president) Juan Jose Ibarretxe paid a visit to the island's governor and attended a reception organized by the club.
"The majority were Basques who were born over there, but live here," said Lasaga, who has lived on the island for over 40 years. Even though the club has disbanded, former members still get together occasionally as friends to celebrate the Aberri Eguna.
One Basque restaurant in San Juan, Urdine, closed but Felix Aranzadi operates Felix restaurant just outside the capital, providing Puerto Rico with Basque cuisine and fresh seafood. Casa Felix is a quaint, well-maintained and highly regarded restaurant on the old highway to Guaynabo that attracts Puerto Rican families from all over the island, to spend a relaxed afternoon or evening. Son Felix Jose spent several years in the Basque Country, training as a chef at several different restaurants, and now heads the restaurant's kitchen. It's off the beaten path and hard to find, but locals know it well.
Restaurante Felix
Carretera 1 Km 25
1 Barrio Quebrada Arenas
Guaynabo, Puerto Rico
(787) 720-1626
Wikipedia list of famous Basque Puerto Ricans

Cifre de Loubriel, Estela (1986). La formación del pueblo puertorriqueño. La contribución de los vascongados, navarros y aragoneses. San Juan, Puerto Rico: Instituto de Cultura Puertorriqueña.