Basque Gifts for the Holidays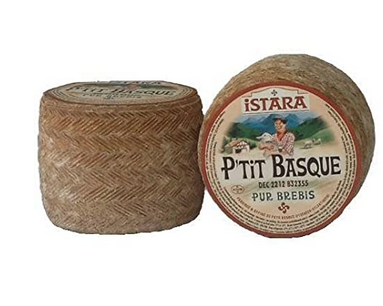 1. Le P'tit Basque cheese – the best Basque cheese around! This cheese is made from sheep's milk. There are still many small cheesemakers in the Basque Country, including Istara, whose P'tit Basque cheese is distributed in the U.S.  And you can get it delivered! Click here to buy P'tit Basque from Amazon.
2. Basque Beret – Do you want to be authentic? Then you must wear a beret to your next Basque celebration. "The beret still remains a strong symbol of the unique identity of southwestern France and is worn while celebrating traditional events," notes Wikipedia. In Hegoalde (the Spanish side), it's known as a boína or bilbaína. This traditional black beret may be expensive, but it is made by Laulhère, the oldest beret maker in France, and the beret is identified with a "authentique" label on the inside. Join in the tradition for any Basque occasion. It's also a stylish way to keep your head warm in cold weather. Click here to buy the beret on Amazon.
To buy a less expensive beret in different colors, try this one. It has an Amazon choice label.
3. Basque Meat Marinade: Basque Norte is a popular restaurant that has existed in the town of Chico, in Northern California for many years. The Allen family opened this restaurant in 1975 after a visit to Spain, where they fell in love with the Basque Country. The marinade, which they use on their popular steaks, is available at many locations. Click here to buy it from Amazon and get it shipped to you in time to cook some steaks for your next holiday party.
BEST BASQUE BOOKS TO BUY
MORE GREAT BASQUE BOOKS TO BUY
4. If you do not have a Basque flag, now may be the best time to get one. You can hang this 3 x 5-foot flag outdoors via two grommets or on a wall. Sabino and Luis Arana, the founders of the Basque Nationalist Party, created the flag, known as the ikurriña. The red, white and green colors of the flag have become the national Basque colors. Buy it from Amazon here.
5. Silver lauburu pendant – The ancient symbol of the lauburu (literally "four heads") is a symbol of the Basque Country and the unity of the Basque people. It is used on door lintels in the baserris (farmhouses), on furniture and gravestones. It is frequently worn as jewelry. To buy this silver-colored lauburu from Amazon, click here.
6. Promote the Basque language and wear a unique t-shirt at the same time. The slogan "maite zaitut," which means "I love you" in Euskera is likely to start several conversations about the unique Basque language. Click here to buy it from Amazon.
7. This lovely little book, "A Basque Diary: Living in Hondarribia," with its cute illustrations, is a great guide to living in the Basque Country. Now in its second edition, the book makes a good gift for fans of the Basque Country, even if they aren't planning on moving there. The author, originally from England, planned to visit the Basque Country for a short while, and ended up staying for two years, in the coastal town of Hondarribia in Hegoalde. Her enjoyable cartoons and irreverent tone has led readers on Amazon to give the guide a five-star rating. Click here to buy the book on Amazon.
8. A new addition from Basque writer Elizabette Guecamburu: "Murder At the Boardinghouse." Guecamburu wrote this fun murder mystery in response to the 2022 Basque writing contest, sponsored by the Center for Basque Studies at UNR. The book relates a story about a murder in a boardinghouse where all the characters are Basque. "It's scandalous and that's the best part," Guecamburu told Euskal Kazeta. This book will make a wonderful gift for your friends and family who like to read. Buy it here from Amazon.
9. Another good t-shirt – Show your Basque pride with this t-shirt of the ikurriña superimposed on a map of the Basque Country. To buy this t-shirt from Amazon, click here.
**Disclosure: links here are affiliate links which means at no additional cost to you, we earn a commission if you click through and make a purchase. These are all products that we recommend.