Basque Pilotaris Thrill Bakersfield Crowd
By Nancy Zubiri
Four professional handball players from the Basque Country talk about their visit to Bakersfield to play at the Kern County Basque Festival.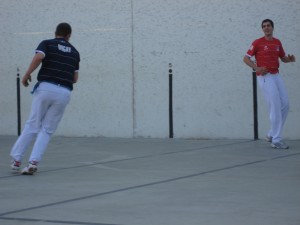 Among them was Fernando Goñi, AKA Goñi III, one of the reigning doubles handball champions of Spain. The others were Pedro Eulate, Alberto Ongay and Jon Apezetxea.
The organizers of the Bakersfield festival, probably the biggest Basque festival in California, try to bring in special performers for their annual event on Memorial Day weekend.
"We're very lucky to have such high caliber players at our festival," said Louis Iturriria, Kern County Basque Club president. The club serves about 1,500 barbecue lunches, and estimates that about 2,500 to 3,000 people attend the festival at the club's property at 2301 S. Union Ave.
The four athletes played an exhibition game on Saturday and again on Sunday, at the club's left-wall handball court, known as Gure Amentsa, "our dream." Eulate and Apezetxea won the first match, 25 – 24. The teams switched on Sunday, where Goñi and Apezetxea won 30-27. Euskal Kazeta's video camera captured the action.
The players said they were happy to have been invited to play in Bakersfield during the May festival.
"It's very nice that the people enjoy us," said Eulate, who was also a champion in Spain in 2006 and 2007. Eulate spoke while the players were getting ready for the game on Sunday. The preparation involved a lengthy process – perhaps as long as a game itself – of putting two to three pieces of special soft tape on each finger. Another kind of tape went on their palms. The tape is to protect their hands while smacking the hard, fast ball.
For three of the players, this was their first trip to the United States. They were amazed to find themselves among so many Basque speakers in Bakersfield.
"We're 12,000 kilometers from home, but we are home, speaking in Euskera and everything," said Eulate, in Spanish.
The four players are all from the Navarra province of the Basque region; Goñi from the town of Zubiri, Eulate from Lizarra-Estella, Ongay from Satrustegi and Apezetxea from Goizueta.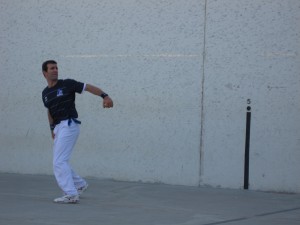 Goñi noted that he had been to the United States once before many years ago, but it was still special for him to make the trip.
"My father was here for many years, in Fresno," said Goñi.
Click here to link to a blog about pelota in English: Dos Paredes