Top Four Things to Do at the Bakersfield Basque Festival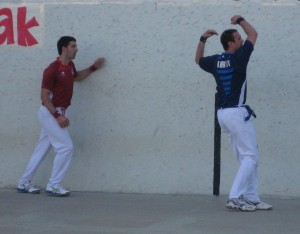 Basques and non-Basques alike enjoy this fun festival at the Kern County Basque Club in Bakersfield. There's plenty to do during this Basque celebration, held on Memorial Day weekend at the end of May every year.
1. Eat a barbecue lamb lunch (Sunday, noon): The line may be long, and you may have to come to the Kern County Basque Club early to stake out a picnic table under the trees, but the meat is worth it. The barbecue starts early, creating an inticing smell during the morning mass. In addition to the juicy lamb steaks, the meal also comes with salad, fresh French bread, beans and a glass of red wine. They serve about 1,500 people every year.
2. Watch some handball by professional handball players from the Basque Country (Saturday and Sunday, 5 p.m.): In the past few years, the Kern County Basque Club has taken pride in bringing pro and amateur players from the Basque Country, to help promote this cultural sport.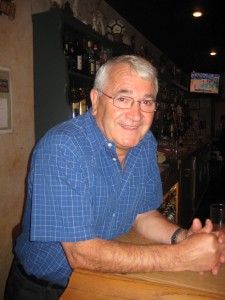 3. Dinner and drinks at Benji's Basque Restaurant (Saturday evening): Everyone has their favorite Basque restaurant in Bakersfield, but Benji's is at the top of the list on Saturday night. The bar fills up with out-of-towners. Often the restaurant owners invite whatever Basque band's in town for the festivities to liven up the scene in the bar. Luhartz from Iparralde was the featured band the past few years.
Benji's, 4001 Rosedale Hwy, (661) 328-0400.
4. Breakfast at Wool Growers Restaurant (Monday morning): This traditional family-style restaurant specializes in feeding large groups delicious food quickly and in quantity. Families use the occasion for reunions. Everybody sits next to each other at long tables, while passing along dishes of sausage, bacon, blood sausage, fried eggs, home fries with peppers, fresh bread, wine, orange juice and coffee. The band usually shows up in the early afternoon for some dancing.
Wool Growers, 620 E. 19th St. (661) 327-9584.
Other popular events at the festival:
Traditional Basque folk dancing by Bakersfield's many young dancers: Sunday 2:30 p.m.
Lively public dance: Sunday, 7:30 p.m.
Club's annual mus tournament: all day Saturday at the Clubhouse, starting at 8 a.m.
See our Calendar of Events for information about the latest Kern County Basque festival.
Kern County Basque Club
2301 Union Ave., near Planz Road
Bakersfield
Other Basque restaurants in town:
Chalet Basque Restaurant, 200 Oak St., (661) 327-2915
Pyrenees Cafe, 601 Sumner St., (661) 323-0053
Originally published May 26, 2012