Basque Pintxos versus Galician Tapas
In 2022, I spent over a week walking through Galicia as I took part in the Camino de Santiago. Every day was a new experience with local flavor in a different town. While I had been to Galicia (and other places where tapas are part of the local culture) before, that week gave me a true feel for what sets tapa culture apart from the pintxo culture I have loved and experienced since first setting foot in the Basque Country 35 years ago.
One common misconception seems to be that what are called pintxos in the Basque Country are equivalent to tapas everywhere else. This is at best an oversimplification, but one that is easily clarified. Let's start off with looking at what a pintxo actually is.
A pintxo is a single individual serving, eaten standing up, either picked up from the bar directly, or ordered from the bartender. It might be something eaten in a single bite, or in several, usually on a slice of fresh baguette. An elaborate one might require a knife and fork to be consumed properly, or maybe even a spoon for one of the more creative ones. It is generally consumed with the tipple of your choice – a txikito of wine or glass of beer. Originally a pre-lunch or evening snack, you may nevertheless find yourself wanting several at a time rather than just the one. Some of my favorites are tortilla de patatas (potato and egg), shrimp and imitation crab or jamon serrano.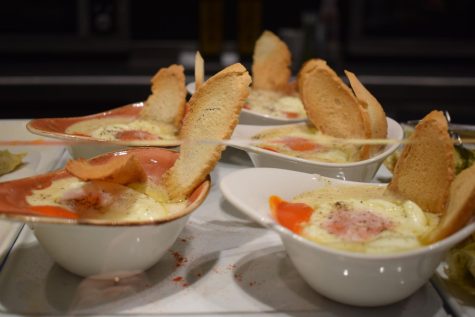 The optimal solution in that case is a pintxo crawl, where you can sample the offerings of multiple establishments, stroll around a bit and enjoy the fresh air. You may find that a full glass of wine or caña (draft beer) is a bit much for each stop. In that case, feel free to order a simple zurito (a small serving of beer), or if you want to avoid the alcohol completely, a zurito de manzana is a shot of apple juice. Or ask for a mosto, which is unfermented grape juice (wine connoisseurs will be familiar with its cognate "must" in English), or simple still or sparkling water for the healthiest option.
What if you've ended up at a quaint tavern with a great vibe, a table to sit down and rest your weary feet and a welcoming proprietor? If you want to settle in and sample a variety from the same place, that's totally fine and will be well-received. Many places rely on the honor system and therefore it is important to keep track of what you've ordered so that everything is fully paid for. It's also fine to pay for each round as it's ordered. Just never, ever try to game the system and ruin things for the rest of us.
MORE BY MICHAEL MCCAY
Walking the Camino Through the Basque Country
At the same time, there are places that will hand you a plate when you walk in and require a minimum number of pintxos before they serve you a drink, especially if you're a tourist. If you're cool with this, that's fine, but my reaction (and this has happened to me exactly once) would be to turn right around and go somewhere a bit more traditional and hospitable.
So what's a tapa then? I'll leave it to the gentle reader to google the possible explanations for the name, or better yet save it for a conversation when you're in situ and enjoying one or two. One explanation has to do with the plate that it's served on acting as a cover or a tapa (lid) for the glass of drink.
How Bilbao Changed from an Industrial City to a European Jewel
Best Places for Good Food in the Basque Country
Galician hospitality really shines where tapas are concerned. While not always, my personal sampling indicates that most of the time, a tapa is offered up on the house as an accompaniment to that drink you just ordered. It could be as simple as a few potato chips, a tasty boquerón, or even something that in the Basque Country would be classified as an actual pintxo.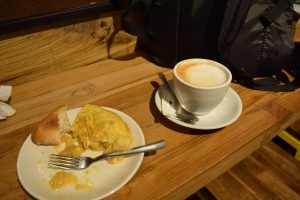 One of my favorite examples was when I was in Santiago de Compostela six years ago, where we went to partake of the local festivities in an outlying neighborhood. As a pre-lunch aperitif, we ordered a round of vermouth. Along with the vermouth, they served this massive stack of shrimp, on the house. Part of the magic of the tapa is getting that occasional pleasant surprise. This freebie practice even extends beyond the beer or wine – you may find that with your breakfast coffee, on the side you'll get a miniature croissant, slice of local cake, or chocolate pastry. In my case at least, it's great how such a small detail can really brighten up a simple morning cup.
At this point you're thinking "OK, but don't they have tapas in other parts of Spain as well?" Of course they do, but I have not seen the same level of hospitality in other parts that I have seen in Galicia. To be honest I haven't really explored other parts of Spain to that extent either. When discussing this with one Galician hospitality worker, he cited Granada as one place to get some really good tapas, so that will have to go on my bucket list.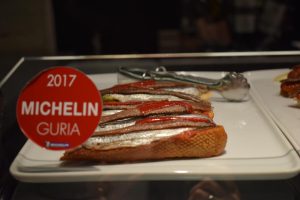 Right now it would be appropriate to insert a word regarding etiquette. Pretty much anywhere on the Iberian peninsula, from Algarve to Hondarribia, hospitality workers are given a basic wage or are the actual proprietors of their business, and are not necessarily expecting any sort of tip, nor will they kowtow to obtain one. Especially in Galicia, if you really want excellent service, be patient, play by their rules, and if you're in a hurry, just go find a fast-food place. Ask before grabbing a table, allow them to take your drink order before the food order if that's how they operate, and give them the time they need to take care of you and everyone else. Save the finger-snapping, eye-rolling and demands for instant gratification for the Michelin-starred places where you're paying over a hundred euros a plate. You'll find that you'll be rewarded with decent tapas, more attentive service, and being allowed to take your time at your table without being hurried out the door. On my most recent trip to Galicia, I witnessed both approaches to human interaction and I can definitely say that you will see a difference depending on your approach.
By now perhaps you're wondering "OK, so I get the part about the little bite served along with the drink, what about those small plates they serve at the place downtown with the Spanish name? Aren't those tapas too?" In a word, yes. In Galicia you'll find establishments fully dedicated to this (look for a tapería), and really, almost any restaurant will be happy to have your group in for a shared tapeo versus individual courses for each member of the party. Certain towns are famous for certain products – Arcade for example is famous for its oyster restaurants. World-renowned peppers come from the town of Padrón. Inland Galician towns boast that they do better octopus than coastal establishments. In my experience, there are great taperías throughout the geography.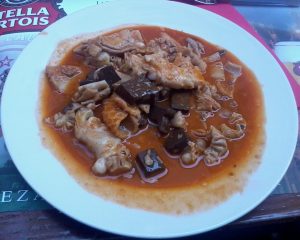 "Great stuff! But what about the Basque Country? They don't have tapas; does that mean that they don't do small plates?" Actually, you can find small plates, just with a different name. On the menu or chalkboard, look for raciones in Spanish or errazioak in Basque. With these, you and your tablemates can get your fix of meatballs, stew, mushrooms, ham and cheese, shrimp, ensaladilla rusa … you can even get your fix of Galician-style octopus at a lot of places. My treasure-hunt item, which you will find nowhere outside of Navarra, and actually at very few places within it, is menudicos de cordero — essentially lamb tripe — a true delicacy for any fans of snout-to-tail cuisine.
Hopefully you're now better prepared for your next culinary excursion to the Basque Country or Galicia!
I'd like to clarify that all that is written here is based entirely on personal observation and direct conversations over several extended stays (and a 15-year residence) in my favorite part of the world — the Basque Country — and one of my other favorite parts of the world, Galicia. You'll find no references or citations, no verifiable historical facts, just the experience of one guy who happens to like food a lot.

This post contains affiliate links, meaning if you click through and make a purchase, we may earn a commission at no additional cost to you.