The Best Places and Dishes to Eat in the Basque Country
Learn what is so special about txokos, goose barnacles and kokotxas.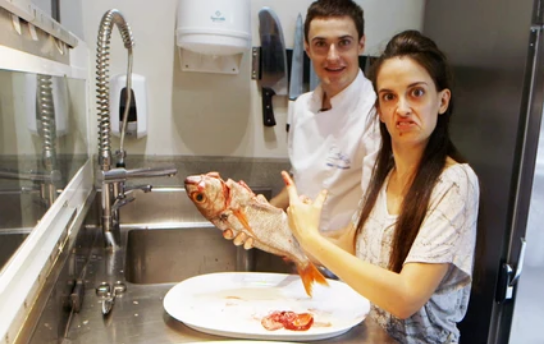 We all know how much the Basques emphasize good food as part of their culture. Munchies, a website and digital video channel dedicated to food, recognized the Basque commitment to high-quality cooking and went to visit the best places to eat in the Basque Country and found the top dishes to eat. The host of the series, Barcelona resident Irene Peralta, provides an enjoyable running commentary in English in this five-episode series on YouTube called "Munchies' Guide to the Basque Country." Click on the video above to watch all five episodes.)
Episode 1: Txokos and an Environmentally Conscious Restaurant
Episode 1 starts off with a visit to the Union Artesano Elkartea, the oldest txoko of the Basque Country. Txokos are gastronomic societies unique to Euskal Herria, where male members do all the cooking. One of the women guests, noting the fact that the men do the work, including the cleaning, calls it "the best miracle in the world." These private clubs are open only to members and their guests. Peralta is served kokotxas, a fish stew with cod and hake.
Peralta gives an informative, yet enjoyable reflection on Basque cuisine and Basque Country restaurants. One commenter accurately describes Peralta as "clever, funny, pretty in a girl-next-door kind of way" and notes that she "has a bit of a mischievious streak." Peralta's expressions and hilarious comments, including the occasional curse word, engage the viewer through all the episodes.
"
People here are always talking about food.
— Episode 2
Visiting a Txoko: A visit to the Basque Country will be much richer if you visit a txoko. But it's hard to get into one without a personal invitation. And having a connection to people in the txoko will make the experience so much more enjoyable. So make an effort to get an invitation. It might be easier to start before you leave on your trip. Reach out to your Basque friends and ask if they know someone who belongs to a txoko. Some friends we visited in the Basque Country took us to a txoko and it was definitely a highlight of our trip. If you can't track down someone who knows someone, contact a Basque Country travel agency. They are likely to be able to set something up for you.
Peralta also visits Eneko Atxa, one of the top chefs of the Basque Country, at his environmentally correct restaurant Azurmendi in Larrabetzu, Bizkaia. This restaurant is on the forefront of the restaurant industry, growing and composting much of its produce right on the property, which is located in a rural setting outside Bilbao. It was voted "most sustainable" restaurant globally in 2018.
Episode 2: Goose Barnacles and Grilled Turbot
Peralta starts the episode in the Port of Pasajes, for the region's biggest daily seafood market. Later, she heads to Bakio, where she visits a local older man known only as Miguel, who dives in dangerous waters for goose barnacles, also known as the Devil's Finger and as the most expensive seafood in Europe. Known as percebes in Spanish, the barnacles grow in dangerous surf along rocky coastline. Their high price is related to the risk involved in collecting them. While she gets a home-cooked meal of percebes by Miguel himself, the barnacles (percebes) can be found at most high quality seafood restaurants.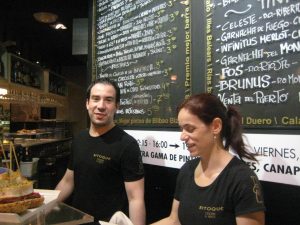 Afterwards, Peralta visits the famous seafood restaurant Elkano in Getaria, Gipuzkoa, where she eats their specialty, the grilled turbot. This restaurant regularly makes it to the list of the top restaurants in the region.
Episode 3: Txuletas, Cider and Baby Pigs
Peralta admits that eating a good steak is "better than sex" as she bites into a delicious grilled "txuleta" or ribeye steak at Casa Julian in Tolosa, Gipuzkoa. The restaurant, which is family-run, is a master of grilling.
Later, she visits the family who runs the cidery Egoitz Zapiain in Astigarraga, which makes Basque cider from apples. Astigarraga and the surrounding area of Gipuzkoa is home to at least 50 sagardoteguis that make the natural hard cider. A visit to almost any sagardotegui will be a fun experience, especially during txotx season, which runs from January to April.
LEARN MORE ABOUT BASQUE CIDERHOUSES: READ OUR STORY ON GURUTZETA
The next day, Peralta nurses a hangover while she visits the Urdapilleta charcuterie and farm that belongs to the Urdapilleta family. The pig farm is bringing back a native Basque Country pig that was almost extinct. This attests to the Basque willingness to work hard and never rest on their laurels. The Basque emphasis on good food is exemplified by the many businesses like this one dedicated to high quality agriculture and animal husbandry products. The farmer conjectures that all the people in the North Atlantic region descended from the Basques.
Episode 4: Tolosa Beans, the Oldest Market, Making Prize-Winning Pintxos and a Winery with Native Grapes
Peralta visits the Restaurante Fronton in Tolosa, Gipuzkoa a restaurant with a handball court, to eat Tolosa beans. She joins a beret and cloak-wearing brotherhood that exists to promote the unique bean. Most restaurants in Tolosa serve them.
Just a few miles down the road, Peralta also visits the Ordizia Market, over 1,000 years old. The open-air market is considered one of the oldest markets in Spain and is held every Wednesday morning in Plaza Nagusia in the town of Ordizia, Gipuzkoa.
Then she heads to Vitoria-Gasteiz in Alaba where she helps chef Josune Menendez make one of her famous prize-winning pintxos in her restaurant Bar Erkiaga.
And in the end, she drives to the award-winning vineyard Remelluri up in La Bastida, in the Rioja grape-growing region. Remelluri only cultivates grapes native to Alaba's Rioja region.
READ RELATED EUSKAL KAZETA ARTICLES
Top Basque Cookbooks in English
Four of the Top Restaurants in the World are Basque
Chef Anthony Bourdain: Champion of the Basques
Episode 5: Martin Berasategui, Kokotxas and more Michelin-starred Restaurants, Plus Pintxo Bars in Donosti
Peralta visits Martin Berasategui, the only chef in Spain at the time with seven Michelin stars. She goes to the restaurant named after him (he has more than 10 restaurants around the world) outside Donosti in Lasarte-Oria. In a hilarious scene, Peralta and Berasategui argue over an elaborate dish because she wants to eat it and for him, it's not presentable. Peralta wins.
She also visits another Michelin-star chef Daniel Lopez from Kokotxa Restaurant in Donosti and helps him cook kokotxa, a stew made from the throat of the hake fish.
Peralta goes on a pintxos crawl in La Parte Vieja (old town) Donosti with Lopez and his two chef friends, Gorka Txapartegi of the restaurant Alameda in Hondarribia and Jose Mari Arbelaitz of Zuberoa in Iturriotz, who Peralta learns have also won Michelin stars. They visit some of the best places to eat pintxos in the Basque Country, including Gandarias, Txepetxa and Bar La Cepa.
With more people spending time at home these days due to the coronavirus, now is a great opportunity to watch this series. While the videos were published in 2015, the commentary on Basque food is still relevant today. Click on the video above to watch all five episodes.
If you would like to advertise on this page, contact us at euskalkazeta@gmail.com.